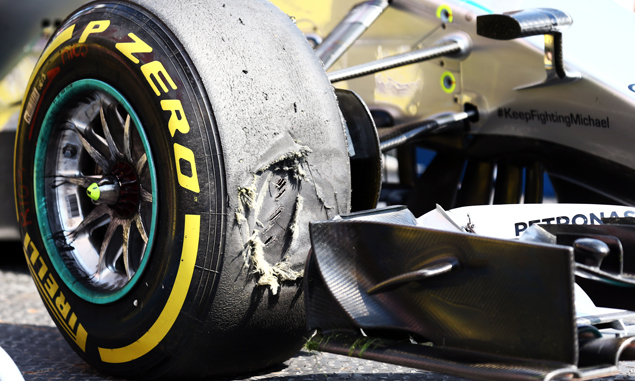 The Grand Prix Driver's Association urges F1's official tyre supplier Pirelli to put an end to the sort of spectacular blow-outs that recently befell Nico Rosberg and Sebastian Vettel at Spa.
The Mercedes driver suffered a scary tyre failure at Blanchimont during last Friday's FP2 session, while the Ferrari racer's rear right suddenly went on Lap 42 of the Belgian Grand Prix. Vettel's incident has led to a public spat between Ferrari and Pirelli, with Rosberg also calling for a change.
It is now GPDA President Alexander Wurz's turn to step in and ask for a probe into last weekend's high-profile failures.
"As drivers, we strongly believe the end of a tyre's performance window can and should not be a tyre delamination in the form of an explosion," he told BBC Sport.
"I believe there are technologies which prevent such sudden delamination, but for the short term we need to give Pirelli the freedom and support to introduce any measures they declare safe and fit for F1 racing.
"We request their utmost attention to the tyre blow-outs at Spa. We need to work together to get on top of such safety concerns."
Wurz, who races on Michelins as part of Toyota's works LMP1 roster in the FIA WEC, appreciates Pirelli's major challenge in keeping apace with F1's fast development rate but insists solutions must be found.
"It needs to be said that we have seen tyre failures throughout the history of F1 and racing. This is not desired, but we are aware of the difficulties tyre manufacturers face because of ever-evolving lap times and forces.
"It is the management of and reaction to such failures, and the development of better, faster and safer tyres, which F1 shall and must embrace and even demand.
"This is for the safety of the drivers but also for feeding safer technologies into road tyres."
Pirelli and Michelin are the only bidders to F1's next three-year tyre contract starting in 2017.
Click here for F1i's driver ratings after the Belgian Grand Prix at Spa-Francorchamps. 
Keep up to date with all the F1 news via Facebook and Twitter