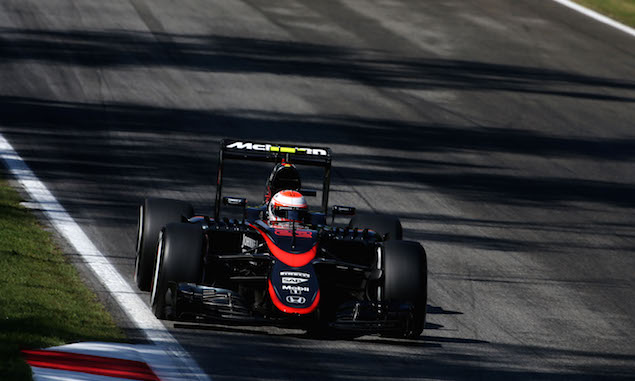 Jenson Button says the "drastic change" he has seen within McLaren convinces him the team will eventually be successful with Honda.
McLaren has endured a tough season so far this year, with the return of Honda as power unit supplier having led to a number of reliability problems and a lack of competitiveness. The situation appeared to be worsening at Monza, where cracks began to show in the McLaren-Honda partnership.
While Button has been coy regarding his own future as McLaren's struggles continue, he says the changes which have been implemented at the team in search of success convince him it will eventually return to winning ways.
"Previous teams that I've been with where you can't see a future, there hasn't been a future as you have been with a works manufacturer and there hasn't been change," Button said. "We've had drastic change within this team with Honda coming back into F1 and, if you look back at the beginning of the season, in testing we were struggling to do two-lap runs or get out of the garage.
"So we have come a hell of a long way but, from a racing driver's point of view, you always want more and you always want things to happen quicker. But F1 is such a competitive sport right now, and it is so complex [in terms of] the power unit and also the aerodynamics, we are so limited in what we can do, what we can change, to make the difference during the season is so difficult.
"Can I see light? Yeah, I can see that it is going to improve but none of us here right now know how quickly. We hope that it is going to happen quickly and I know that everyone is working flat-out, at Honda and Woking, and I know that we have had more parts on this car – aerodynamic parts and mechanical parts – than I have ever had in my F1 career and this is with the limit in the regulations, limitation in aerodynamics, but you still don't know when it is going to turn a corner and when you are going to start winning."
Racing director Eric Boullier said over the Italian Grand Prix weekend McLaren intends to keep hold of Button alongside Fernando Alonso next season.
Click here for F1i's technical analysis of the Spa and Monza upgrades
2016 F1 driver line-ups so far
F1 drivers' girlfriends gallery
Keep up to date with all the F1 news via Facebook and Twitter