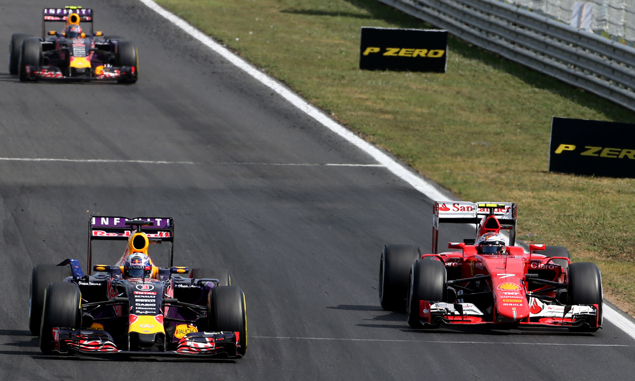 Ferrari team principal Maurizio Arrivabene says "he does see any problem" in providing rival Red Bull with power units next year.
Although the energy drinks giant's current contract with Renault runs through to the end of 2016, the two partners are reportedly headed for an early split. Mercedes looked like a prime candidate to replace the French manufacturer but the deal would be off the table, lest it could boost Milton Keynes' recovery.
With Honda struggling to get on top of the hybrid power unit technology, this would leave Ferrari as the sole viable option for Red Bull. While well aware of the risk it could represent, Arrivabene is open to supplying the four-time world champions.
"Red Bull have big names, with Adrian Newey, and it is easy to think if you give them an engine they will build a scary chassis, which means they will be really competitive," he said.
"But my team, my engineers and aerodynamicists know their jobs. For that reason I don't have a problem and the competition is nice when you have a stronger competitor.
"This doesn't mean tomorrow morning we will give our engines to Red Bull, but I don't see any problem to give our engine to any other team or be scared of the competition before they start.
"This is not the right spirit of competition, of what Ferrari represents: we fight with everybody."
Along with its factory team, Maranello also provides engines to Sauber and Manor this year, and will add F1 newcomers Haas to its roster in 2016.
Ferrari and Red Bull already have a history of working together, with the pair teaming up in 2006 and David Coulthard securing a podium finish at Monaco.
Red Bull's sister team Toro Rosso also used Ferrari power from 2007 to 2013 before switching to Renault last year.
Click here for F1i's driver ratings from the Italian Grand Prix
2016 F1 driver line-ups so far
F1 drivers' girlfriends gallery
Keep up to date with all the F1 news via Facebook and Twitter