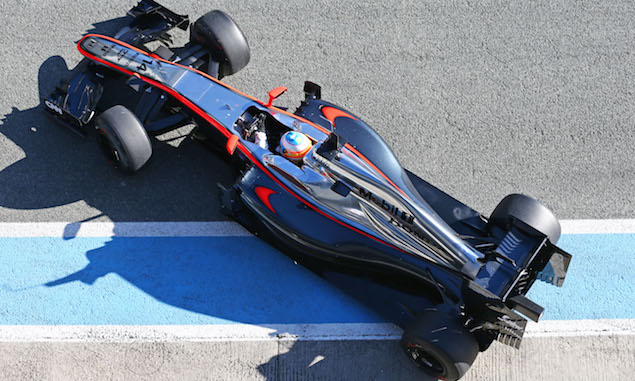 Eric Boullier says he was pleased to see the new McLaren MP4-30 run without cooling issues in Jerez because the radical car design is "amazing".
The MP4-30 was described by Boullier as "one of the most exciting and best ever built cars from McLaren" when it was unveiled ahead of the first pre-season test, with particularly tight packaging at the rear of the car. While testing in Jerez saw the Honda-powered car limited to just 79 laps in total across the four days, Boullier says he is pleased that keeping the engine cool - albeit in low ambient temperatures - was not one of the problems McLaren encountered.
"You can see for yourself that the back end of the car is quite amazing," Boullier said. "The car is very small and tiny and we have embarked with our partner as well to try for this challenge.
"Honda has obviously worked very [closely] with McLaren to make sure we can design such a car, but a partner like Mobil has been very interestingly involved with this because thanks to them we have pushed the limit of the cooling and we can run hotter engines, which [results in] smaller radiators and a smaller cooling system.
"This all achieves a tinier car and this is why I said before it was a relief to see the car running with no cooling issues because this is one of the main concerns when you go radical or extreme."
Click here to see the full gallery of the McLaren MP4-30
Keep up to date with all the F1 news via Facebook and Twitter