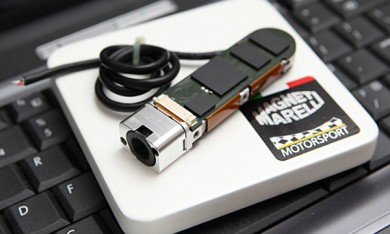 A new high-speed camera destined to provide driver footage and data in the event of an accident will be tested in the very near future.
Developped by Magnetti Marelli, the USB stick-sized device, which the FIA intends to make mandatory from 2016, shall be fitted to the front of the cockpit and will look back at the driver.
The camera's technology will record at 400 frames a second for up to 90 minutes before it starts a new loop. Valuable information shall be stored as telemetry data into a car's black box, and help engineers precisely determine a force and point of impact.
According to the governing body, the concept should greatly help with the analysis and investigation of any eventual accident or incident, such as Fernando Alonso's pre-season testing mishap.
"We've had onboard footage of crashes for a long time which has been useful," said Andy Mellor, the FIA Institute's technical advisor. "But of course it's all low speed and it doesn't really show what happened to the driver during the milliseconds of that impact event."
Chris Medland's Singapore Grand Prix preview
2016 F1 driver line-ups so far
Click here for some of the most memorable crashes at Singapore
Keep up to date with all the F1 news via Facebook and Twitter