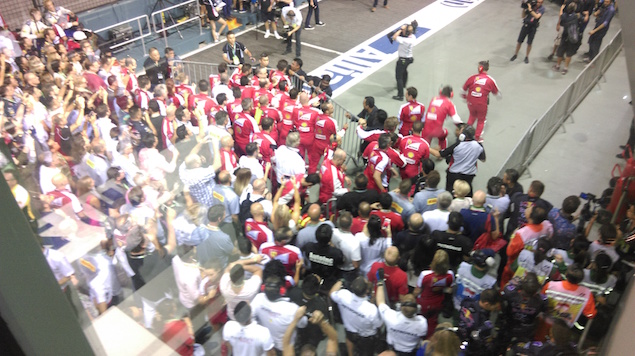 Ferrari has offered to have team principal Maurizio Arrivabene "send a written unconditional apology" after complaints over team behaviour in parc ferme.
Following Sebastian Vettel's victory in the Singapore Grand Prix, Ferrari team members were trying to make their way up the pit lane to join in the celebrations when they were met by a barrier intended to hold back team members and media until the drivers have left the area.
However, Ferrari team members forced their way past a number of press members to the barrier and then physically battled beyond the barrier. Some Ferrari members used photographers' lenses to get higher to try and clear the barrier before they surged through. One photographer described the Ferrari members as "animals" and "thugs" for their behaviour.
Following a stewards' investigation, Ferrari offered to submit an apology for the incident.
"The Stewards, having received a complaint from the Secretary of the Event on behalf of himself and the members of the security contingent at Post Race Parc Ferme, that some members of Scuderia Ferrari failed to obey instructions of relevant officials and behaved in an inappropriate manner, have heard from the Team Manager, the Secretary of the Event and the Head of the Security Contingent," said the FIA in a statement.
"The Team Representative has offered to have the Team Principal send a written unconditional apology to those who were affected and to give an assurance that there will not be a recurrence."