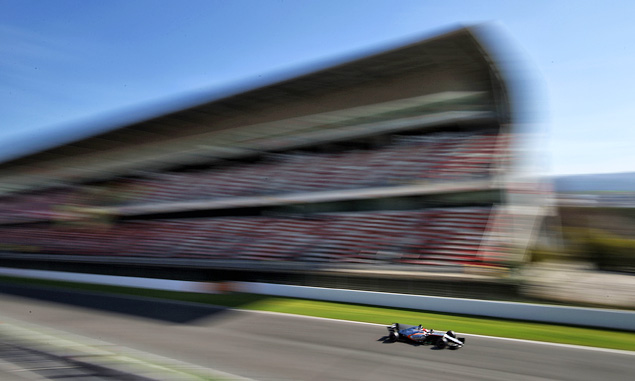 If the disastrous situation faced by McLaren-Honda wasn't already stark enough, their desperate plight has been exposed by the raw data on mileage and laps completed in pre-season testing.
McLaren's Fernando Alonso and Stoffel Vandoorne between them completed only 425 laps of the Circuit de Barcelona-Catalunya in eight days of testing. Alonso himself accounted for only 190 laps, compared to Vandoorne's 235.
By comparison Mercedes pumped out more than double the number of laps of their rivals with 1096 laps in the books. Valtteri Bottas was the single busiest driver in Spain, undertaking 628 laps in total or 2923km.
Next up was Ferrari's Sebastian Vettel, who chalked up 591 laps or 2751km at the Spanish Grand Prix circuit. Lewis Hamilton was third in the mileage charts with 468 laps (2179km) completed.
Vettel's team mate Kimi Raikkonen ran a third fewer laps than Vettel, just 365 laps or 1699km. However he came away with the prize of best time of the fortnight when he put in a flying lap of 1:18.634s on the final day. Overall Ferrari completed 956 laps or 4450km to be the second busiest team of pre-season testing after Mercedes.
In terms of engines, the Mercedes power units run by the works team, Williams and Force India cars accounted for 12480km, while the Ferrari power unit which is also used by Haas and Sauber completed 11447km.
The Renault engine ran less than half that number - 5498km - but that figure only accounts for the Renault Sports F1 team and the Toro Rosso. The badged Tag Heuer engine in the Red Bull adds another 3184km to that amount for a total of 8682km. However all the teams ran fewer laps than they did in 2016 - in particular, Toro Rosso completed only just over half its previous year's pre-season test distance.
Even so, the figures show just how exposed Honda now is. With only one team (McLaren) running their power unit it was always going to be a case that the Japanese manufacturer would run the lowest number of laps of any engine provider in testing.
With persistent electrical problems for the McLaren MCL32 manifesting throughout both four-day tests, the Honda lasted only 1978km. Multiple engine changes were needed during the two weeks, and the car's best stint lasted just 11 laps which leaves the engine manufacturer over 10,000km behind Mercedes in terms of total mileage and test data.
(Figures in brackets are the equivalent mileage and lap count for teams in 2016. Mileage figures have been rounded to nearest km.)
| Mercedes | 5102km (6023) | 1096 laps (1294) |
| --- | --- | --- |
| Valtteri Bottas | 2923 | 628 |
| Lewis Hamilton | 2179 | 468 |
| Ferrari | 4450km (3975) | 956 laps (854) |
| --- | --- | --- |
| Sebastian Vettel | 2751 | 591 |
| Kimi Räikkönen | 1699 | 365 |
| Williams | 3724km (3984) | 800 laps (856) |
| --- | --- | --- |
| Felipe Massa | 1927 | 414 |
| Lance Stroll | 1797 | 386 |
| Sauber | 3668km (3900) | 788 laps (838) |
| --- | --- | --- |
| Marcus Ericsson | 2071 | 445 |
| Pascal Wehrlein | 894 | 192 |
| Antonio Giovinazzi | 703 | 151 |
| Force India | 3654km (3626) | 785 laps (779) |
| --- | --- | --- |
| Esteban Ocon | 1699 | 365 |
| Sergio Pérez | 1624 | 349 |
| Alfonso Celis | 331 | 71 |
| Haas F1 | 3328km (2206) | 715 laps (474) |
| --- | --- | --- |
| Kevin Magnussen | 1717 | 369 |
| Romain Grosjean | 1611 | 346 |
| Red Bull | 3184km (3803) | 684 laps (817) |
| --- | --- | --- |
| Max Verstappen | 1615 | 347 |
| Daniel Ricciardo | 1569 | 337 |
| Renault | 2779km (3612) | 597 laps (776) |
| --- | --- | --- |
| Nico Hülkenberg | 1462 | 314 |
| Jolyon Palmer | 1317 | 283 |
| McLaren | 1978km (3305) | 425 laps (710) |
| --- | --- | --- |
| Stoffel Vandoorne | 1094 | 235 |
| Fernando Alonso | 884 | 190 |
GALLERY: F1 drivers' wives and girlfriends
Keep up to date with all the F1 news via Facebook and Twitter