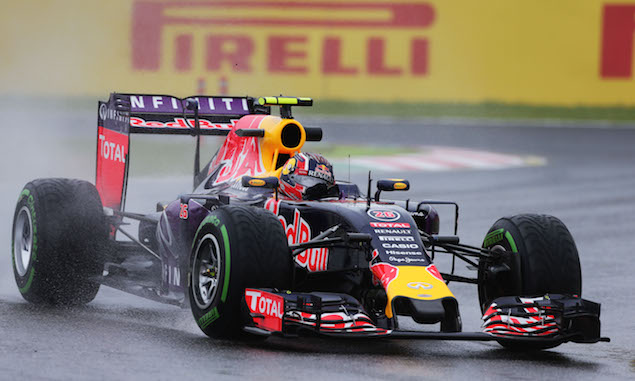 Daniil Kvyat set the fastest time of FP2 for the Japanese Grand Prix on a rain-affected Friday at Suzuka.
Following persistent rain over the last two days, there was a brief spell during the first part of FP2 where track conditions improved but never reached a point where slick tyres were an option before the rain intensified in the second half of the session. Before that point, Kvyat had set a best time of 1:48.277 to complete a strong personal day having been second to Carlos Sainz in the morning.
Kvyat's time left him just 0.023s clear of Nico Rosberg, with Mercedes finishing second and third having not run the intermediate tyre during the opening session. Lewis Hamilton was over half a second slower than his team-mate, with both drivers heading back out on full wets late on.
The wet conditions throughout Friday mean any concerns Mercedes might have following its struggles at last weekend's Singapore Grand Prix remain unanswered ahead of the final practice session on Saturday morning.
Daniel Ricciardo was fourth quickest as Red Bull looked competitive in wet conditions, with a big gap separating the top four from the rest of the field. Ricciardo was 0.8s off team-mate Kvyat's time, but Sebastian Vettel and Kimi Raikkonen - just 0.051s apart - were two seconds off the pace.
Vettel was the busiest driver in FP2, lapping late on despite very wet conditions seeing lap times drop off by five seconds. The Singapore GP winner ended up with 19 laps to his name, while Raikkonen had the next highest total with 16.
Morning pace-setter Sainz finished seventh in the afternoon, a little over 0.1s clear of team-mate Max Verstappen. The 17-year-old had a couple of off-track moments, sliding wide at the hairpin and having to recover from the gravel as the rain started to intensify.
Felipe Nasr and Pastor Maldonado rounded out the top ten, with Maldonado having a strange excursion when he failed to stay on track exiting Turn 2, bouncing across the grass having been looking down at the display on his steering wheel.
A technical issue at McLaren saw Fernando Alonso confined to the garage for the first half of the session but he did emerge to complete 10 laps while only Valtteri Bottas didn't run at all in FP2. Unlike this morning, the other 19 drivers all set times.
AS IT HAPPENED: Japanese Grand Prix FP2
Click here for the F1 drivers' girlfriends gallery
Keep up to date with all the F1 news via Facebook and Twitter
| Pos | Driver | Team | Time | Laps |
| --- | --- | --- | --- | --- |
| 01 | Daniil Kvyat | Red Bull Racing | 1:48.277 | 6 |
| 02 | Nico Rosberg | Mercedes | 1:48.300 | 8 |
| 03 | Lewis Hamilton | Mercedes | 1:48.853 | 8 |
| 04 | Daniel Ricciardo | Red Bull Racing | 1:49.097 | 10 |
| 05 | Sebastian Vettel | Ferrari | 1:50.268 | 19 |
| 06 | Kimi Räikkönen | Ferrari | 1:50.319 | 16 |
| 07 | Carlos Sainz | Toro Rosso | 1:50.418 | 6 |
| 08 | Max Verstappen | Toro Rosso | 1:50.542 | 5 |
| 09 | Felipe Nasr | Sauber | 1:50.968 | 10 |
| 10 | Pastor Maldonado | Lotus | 1:51.557 | 7 |
| 11 | Nico Hulkenberg | Force India | 1:51.674 | 11 |
| 12 | Jenson Button | McLaren | 1:51.861 | 9 |
| 13 | Marcus Ericsson | Sauber | 1:51.934 | 12 |
| 14 | Sergio Perez | Force India | 1:52.070 | 8 |
| 15 | Romain Grosjean | Lotus | 1:52.534 | 6 |
| 16 | Felipe Massa | Williams | 1:52.765 | 6 |
| 17 | Fernando Alonso | McLaren | 1:55.239 | 10 |
| 18 | Will Stevens | Marussia | 1:58.059 | 6 |
| 19 | Alexander Rossi | Marussia | 1:59.419 | 7 |