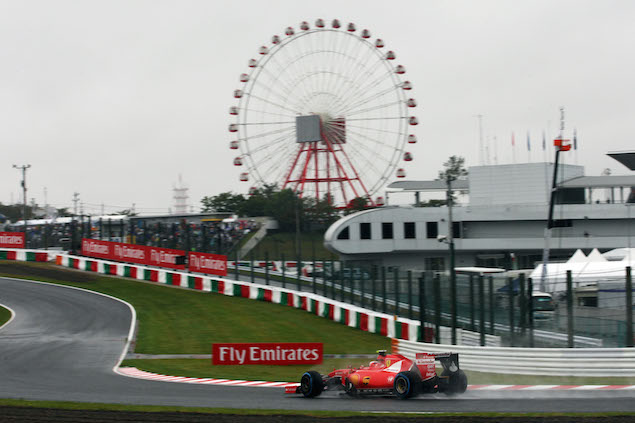 Follow live coverage of the Japanese Grand Prix weekend with F1i.
Drivers were faced with a wet track in FP1, meaning a number didn't post times and three drivers - Daniel Ricciardo and the two Lotus cars - only completed a single installation lap. However, those drivers who did test track conditions were willing to push for times as the session wore on.
With the track thoroughly waterlogged, only 12 drivers set a laptime in the morning. The fastest lap was set by Toro Rosso's Carlos Sainz who posted a time of 1:49.434s on intermediate tyres when conditions were as good as they were going to get. He was half a second quicker than Red Bull's Daniil Kvyat.
The rain is likely to continue to be a factor on Friday afternoon as well, but the forecasts are much better for Saturday and Sunday meaning we can be hopeful there will be dry, bright and even sunny conditions. However last year's race demonstrated that rain is always a threat, so drivers will be keen to get some wet weather running just in case the forecasts prove wrong.
The wet conditions in FP1 meant that we didn't get any insight into the question marks surrounding Mercedes' odd slump in form at Singapore last week. Lewis Hamilton and Nico Rosberg are obviously expected to return to form and reestablish themselves as the men to beat this weekend, but Ferrari  will be keen to pile on the pressure on its rivals after Sebastian Vettel's dominant victory at the Marina Bay Circuit on Sunday.
It's proving to be another difficult weekend for Lotus, with the late arrival of the team's equipment putting it on the back foot once again. Test and development driver Jolyon Palmer only turned a single lap this morning, and this afternoon Romain Grosjean will be back in the car. Grosjean is set to be announced as the first driver for the Haas F1 Team next week.
To get you orientated for the session: Built in 1962 and first used by Formula One in 1987, Suzuka is 3.609 miles (5.807km) in length with 17 corners. The lap record is held by Kimi Raikkonen who set a time of 1:31.540s in the McLaren in 2005. Suzuka is one of the few circuits in the world to have a 'figure of 8' configuration meaning that the track passes under itself between turns 9 and 10.
You can follow all the live coverage on F1i's live page, which can be bookmarked as it will provide commentary on every session of the 2015 F1 season.
Click here for the F1 drivers' girlfriends gallery
Keep up to date with all the F1 news via Facebook and Twitter