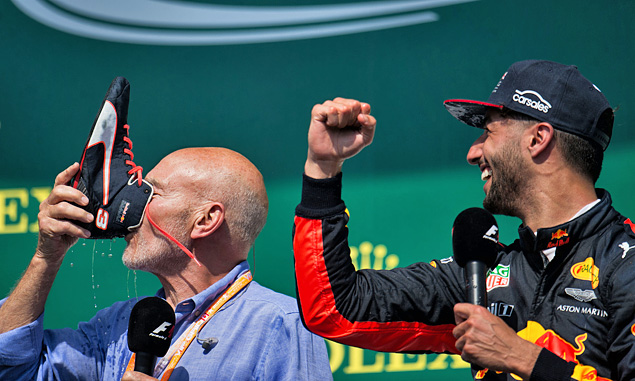 Daniel Ricciardo admitted that Sunday's Canadian Grand Prix had been one of the harder races of his Formula 1 career.
The Red Bull driver started from sixth place on the grid. He quickly made up three places over the course of the first ten laps. After that it was simply a battle to keep the positions that he had gained all the way to the finish.
"Today I only had fun when I saw the chequered flag," Ricciardo admitted on the podium after the race. "It was tough. I was defending the whole race.
"We weren't that quick to be honest, and I had pressure, pressure," he explained. "I couldn't afford to do any mistakes. And it was getting quite hot, so my concentration was being tested."
Ricciardo made an early pit stop to head off a threat from Kimi Raikkonen. Unlike the Ferrari driver who opted for supersofts, he chose soft tyres for his second stint. It proved to be a bold but effective move.
"When we put the softs on I thought it's a good thing to do to get to the end," said Ricciardo, who came back out on track just ahead of Force India's Sergio Perez.
"Perez was on me for a bit and then there were a few laps when I was able to pull away," he recalled. "It looked like he was struggling but maybe he was just having a breather and then he had a second attack.
"I couldn't afford any mistakes, especially in the last sector, because if they get the DRS and get a run it's hard to keep them behind.
"I had to be close to perfect in terms of not making any errors but it wasn't easy as the grip was low and the wind was crazy out there.
"Not the easiest third place but when I saw the chequered flag I was like: yes I can finally breathe!"
"But it was a lot of fun," he admitted. "I enjoyed it, and it's awesome to be on the podium here. It's awesome, amazing."
As a result of finishing on the podium, Ricciardo found himself spurred on by the crowd to revive his 'shoey' tradition.
Ricciardo was delighted when he even managed to get Hollywood star Sir Patrick Stewart to join him in taking a drink of champagne from his race boot.
"I had zero intention of doing a shoey again," Ricciardo said. "But the crowd was chanting and then Sir Patrick got involved. So I thought, 'alright, we might be on here.' I think it turned out pretty good."
Never any fan of the 'shoey', race winner Lewis Hamilton was impressed by the actor going through with it as part of the post-race podium interviews.
"I'm proud of you for doing that," Hamilton told him. "It's something I couldn't do. See how sweaty his feet are? There's a lot of toe jam in those shoes!"

Want to win a trackday experience? All you have to do is subscribe to our FREE newsletter HERE
Gallery: All the pictures from Montreal
Keep up to date with all the F1 news via Facebook and Twitter