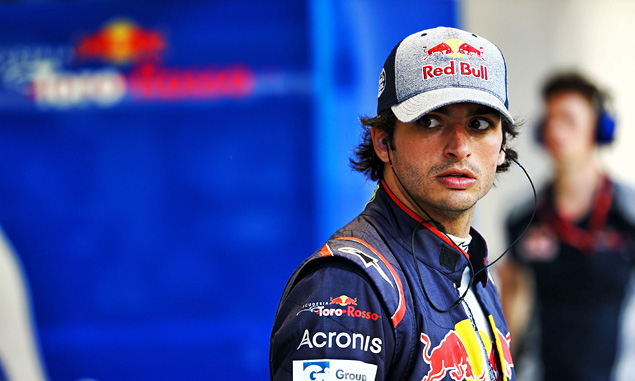 Carlos Sainz says he's as certain as he can be that he'll stay at Toro Rosso in 2018, even though contract talks are yet to begin.
Sainz has been with the team since 2015. Last year he lost out an a chance to move to Red Bull to his then-team mate Max Verstappen. He turned down a chance to move to Renault this season, and is rumoured to be on McLaren's shortlist of drivers for 2018.
But Sainz makes no secret that he wants to stay at Toro Rosso for another year - and that he has every expectation that he will do so.
"I'm never going to say never to Toro Rosso," he told Racer magazine. "They've formed me as a driver and I'm really proud of what they've done with me, and where we are now.
"They are proud also of how much I've developed as a driver with them. And I'm super-grateful to Helmut Marko about how I've grown thanks to him. He's given me a lot of tips. I don't think there will be any misunderstanding or any miscommunication.
"I'm never going to close the door on Toro Rosso. I'm never going to say I'm not going to drive for Toro Rosso in 2018. It would be stupid for me to close a door that, at the moment, looks like it's open."
But Sainz admitted that there so far had been no talks with the team about next year's situation.
"If Red Bull haven't come to me in October for sure I will have to go to them, but I'm pretty sure," he said. "Last year they came to me in June, around Baku, to sign my option.
"Over the summer in Formula 1 usually these sort of things start to happen. So I'm not very impatient at the moment.
"I have a lot of trust in Helmut Marko and in Red Bull that they're going to do the right thing for my future," he added. "Not only for the future of Red Bull, but for my personal future."
But Sainz is not limiting himself to purely holding out for an offer from Toro Rosso.
"Hopefully more options will come," he agreed. "Together with Red Bull we'll analyse them, and that is where the decision-making starts.
"At the moment it's a bit stupid for me to start thinking about potential options for 2018 when we've only done one-third [of this year] and I'm doing such a great season.
"I have to keep enjoying this year, because up until now it's my best one in Formula 1."
GALLERY: F1 drivers' wives and girlfriends
Keep up to date with all the F1 news via Facebook and Twitter
Want to win a trackday experience? All you have to do is subscribe to our FREE newsletter HERE