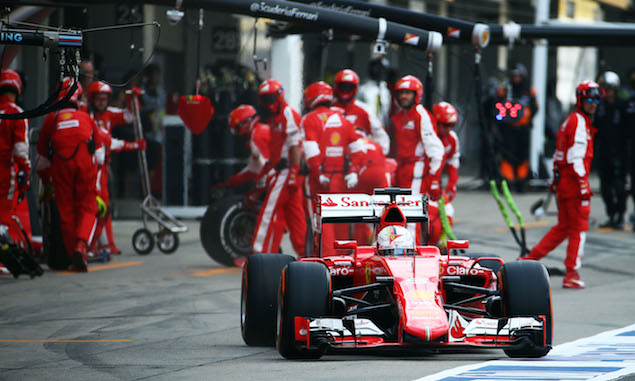 Sebastian Vettel admits he was surprised at the pace Nico Rosberg was able to show in order to jump the Ferrari for second place in the Japanese Grand Prix.
With Lewis Hamilton robustly defending against his team-mate at the start of the race, Rosberg dropped back to fourth place behind Vettel and Valtteri Bottas. Having cleared the Williams, Rosberg was unable to get within DRS range of Vettel by the time of the second pit stops.
With Rosberg having pitted, Ferrari responded by coming in on the next lap and Vettel was setting personal best sectors before his stop but still lost out to the Mercedes on exit; something which he admits was unexpected.
"Well I think we thought we were safe because the tyres were in reasonable shape but I think Nico was a surprise, the pace he had on the out lap," Vettel said. "So I was very happy with the in lap which came at the same time but it was just a question of a couple of tenths in to Turn 1 and he just had the upper hand.
"Then it was clear it would be difficult because he was catching before and also the fact that Lewis disappeared. They had a bit more speed today, had we pitted one lap sooner I think it could have been more interesting and challenging for Nico to get past - it's not so easy here to follow the cars through the high-speed sections so I think we had a good chance but probably underestimated the out lap that he had."
However, Vettel says Ferrari should still be pleased with his third place after struggling throughout practice.
"With hindsight it's always easy, so nevertheless I think it's a great day. A good recovery, Friday was not that good for us - I know it was wet but still the feeling we got was not that great - and Saturday morning as well but a good qualifying and obviously that was the base for another podium today."
REPORT: Hamilton eases to dominant Suzuka victory
AS IT HAPPENED: Japanese Grand Prix
Click here for the F1 drivers' girlfriends gallery
Keep up to date with all the F1 news via Facebook and Twitter