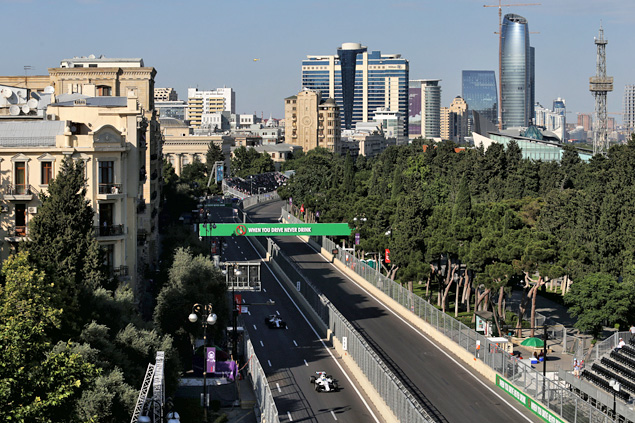 The organisers of the Azerbaijan Grand Prix want 2019's event to return to its normal June slot.
Next year's provisional calendar has moved the race to April. That was at the request of the organisers, who want to avoid a clash with celebrations marking the country's centennial as a republic.
The change in timing also means that the Russian Grand Prix in Sochi can be scheduled later in the season. That will help avoid a clash with the soccer World Cup being held in the country.
"We asked to move to an earlier slot," Baku promoter Arif Rahimov told Autosport magazine this week.
"We want to use the square for a parade on the June date next year for the 100th anniversary of the republic.
"Then in July onwards the European season is too dense, we cannot fit in there," he added.
"We would like to go back to June in 2019. "We're happy with it. In general the June date works well."
"It's probably more or less the best weather we can have," he pointed out. "It's hot under the sun but once you go in the shadow, it's okay."
By contrast, the earlier date next year means that temperature will probably be in the region of 15C.
"It's not freezing cold, but it's not T-shirt weather," observed Rahimov.
He suggested that the only other alternative might be to change when the 2019 begins and ends. "You never know, perhaps they'll stretch the calendar to the beginning of March or something. With the current arrangement it's hard."
Attendance was up by nearly a third compared to the first race held in Baku the year before. The action-packed 2017 Azerbaijan Grand Prix should make it an even bigger draw next year.
"As long as we provide all the entertainment and everything works out I don't think this shift will really affect spectator attendance," Rahimov agreed.
GALLERY: F1 drivers' wives and girlfriends
Keep up to date with all the F1 news via Facebook and Twitter