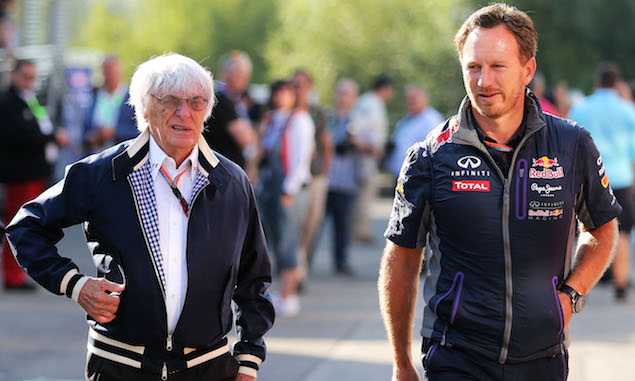 Bernie Ecclestone admits "things need to come together quickly" if he is to keep Red Bull in Formula One.
Red Bull has issued numerous quit threats over the past two seasons, but having severed ties with Renault it is currently left without a power unit for 2016. Mercedes ruled out supplying the four-time constructors' champions, while Ferrari has suggested a deal which is not equal with the works team.
With Christian Horner saying Dietrich Mateschitz's quit threats need to be taken seriously if Red Bull doesn't receive a competitive power unit, Ecclestone believes the energy drink owner is tiring of the sport.
"[Mateschitz] has probably had enough of everything going on," Ecclestone is quoted as saying by the Times. "I am doing everything I can to make sure Red Bull stay with us, but things need to come together quickly. He is serious when he says he will quit if things don't improve."
While Ecclestone is working to keep Red Bull in F1, he says he can understand the concern from the two power unit suppliers it has been targeting.
"Red Bull obviously want the best engines so they can compete, but Mercedes and Ferrari don't want to do that because they fear what will happen. It is not ideal but Mr Mateschitz will have to be patient. We definitely do not want them to leave."
Time is running out for Toro Rosso, Franz Tost tells F1i
Who said that? Lauda. I SAID, WHO SAID THAT?
Take a look at the technical updates from Singapore and Japan