F1i's Eric Silbermann was left surprised by some of Niki Lauda's comments during the Japanese Grand Prix weekend, but then a lot in F1 is perplexing to him right now...
Who lit Niki Lauda's fuse in Japan? In a week when the rumour mill was spinning quicker than an F1 turbo, the Austrian seemed happy to stir things up whatever the topic. They say that in most big cities you are never more than a metre away from a rat, and in Suzuka you were never more than a minute away from a coruscating opinion or two from the three times world champion, known as "The Rat" in his racing days.
Maybe it was all because of the downturn in Mercedes' form in Singapore, but the very old joke about his name being spelt "Louder" definitely came to life in Japan. Quite why he felt obliged to stick his oar into the debate about Jenson Button's future at McLaren is hard to fathom. He'd hardly need to destabilise the Anglo-Japanese outfit, as Fernando "GP2 car" Alonso was doing that well enough on his own. But Lauda was keen to tell people he'd been giving Jenson advice on how to deal with Ron Dennis, which is fair enough, since he did that himself a few decades back. As for Button, he claimed Lauda had buttonholed him in the toilets and he hadn't actually understood what the Mercedes boss had said to him. Maybe it was one of those Japanese loos that plays music to hide any embarrassing noises. The idea of two great racers sitting in adjoining cubicles while discussing how many millions one of them should ask for is one of the best mental pictures of the Suzuka weekend.
In the end, Jenson told us nothing, which is strange given that a McLaren spin doctor instructed the FIA conference host on Thursday to leave Jenson 'til last and ask him about his future. Anyway, that particular mystery has now been solved with the heartening news the Englishman is staying with McLaren-Honda. Let's hope they can produce a car that allows him to show off his silky smooth skills at the wheel.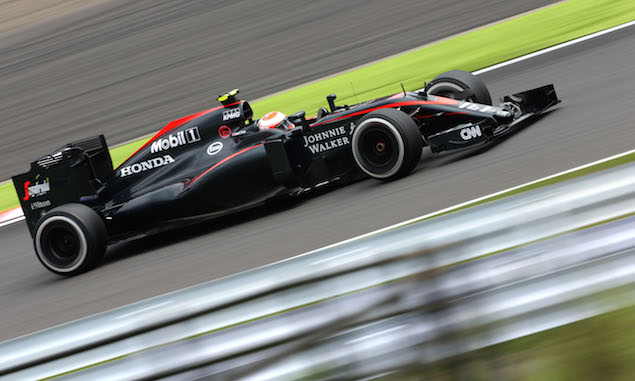 One could say it's Formula 1 itself that appears to be going down the pan right now, with the future of several teams in doubt. Here too we could rely on Niki "Chatty Cathy" Lauda to tell us all about it. Apparently Red Bull could have got Mercedes engines if Dietrich Mateschitz had returned his calls. Yes, that really makes sense doesn't it? Go into Red Bull hospitality any day of the week and Lauda is usually there eating his breakfast/lunch/dinner with Helmut Marko. These Austrians live in one another's pockets so to say that Didi didn't call Niki, therefore the Mercedes board said, "ah well never mind, we'll give the spare motors to Manor in 2016 then" is somewhat far fetched.
I'd have thought Merc could have helped Red Bull out as a thank you for slipping Lewis Hamilton their way, when the fizzy drink strategists, who could easily have tempted Lewis to Milton Keynes, felt the Englishman would do their team less harm parked at the three pointed star than at McLaren-Honda (they got that one wrong in a big way.) Hamilton would have been a shoo in at Red Bull, but they rightly chose to stick with the graduates from their own young driver programme.
Will Renault buy Lotus? It seems likely, but if they think the two Red Bull teams are pulling out completely, then they might think twice. We could end up with a championship where Mercedes and Ferrari run three-car teams, competing against Force India, Sauber, Haas and Manor, with McLaren-Honda hopefully improving. Call it Formula Prozac.
In the old days, Bernie Ecclestone would have issued orders as to how the engines should be divvied up down pit lane, but the octogenarian doesn't seem to be able to put the fear of God into the team bosses the way he used to; perhaps because the teams are mainly run by board members of mighty conglomerates these days. But where was Bernie? Not in Singapore, not in Japan at a time when the sport is facing one crisis after another. Where was the governing body's president for that matter? Actually, it's no surprise that Jean Todt was nowhere to be seen because, when it comes to F1, he's indulged in more handwashing than an OCD version of Pontius Pilate.
Sebastian Vettel is well placed to fully understand how dangerous a great Red Bull chassis-aero package could be with a decent engine pushing it along
Where I do agree with Lauda is that I reckon there's a real chance Red Bull might now weigh anchor and head for more favourable fishing grounds if they don't get a decent specification Ferrari engine. That would require Sergio Marchionne, the Italian firm's chairman doing something "for the good of the sport" and I guarantee you won't hear a funnier joke than that all season. The ruthless Italian-Canadian is only interested in the upcoming Ferrari IPO, set to raise $5 billion for Fiat Chrysler, so why would he risk weakening one of his greatest assets on the grounds of sportsmanship. The other opponent to Red Bull getting the latest Prancing Horse power unit is the man who runs the team: no, not Maurizio Arrivabene silly, but Sebastian Vettel, who is well placed to fully understand how dangerous a great Red Bull chassis-aero package could be with a decent engine pushing it along.
Muddying the waters still further this week were the words of another Austrian – they're everywhere! Helmut Marko accused Ferrari of "playing games" with Red Bull over the engines, which is like coming out of a job interview and announcing that your intended boss is a bit of a cock.
And what of Toro Rosso in all this? Franz Tost has, surprisingly, been more circumspect re the failings of the Renault power unit than those at the senior team. He told F1i.com that time is running out for a decision on 2016 power supply and hinted that getting back into bed with fellow Italians Ferrari would be the most logical course of action. The team could then soldier on, either with a B spec Ferrari power unit or…a Honda. Yes, there are rumours that the Japanese will try and double their development miles by supplying a second team far earlier than anticipated. It sort of makes sense and possibly, working with a smaller less monolithic organisation than McLaren, dealing with people who call a spade a spade rather than a mono-handled, single operative earth moving device might just bring about a change of fortune.
Back to our man Lauda: after the Japanese GP, he announced he planned to tackle Bernie on the lack of coverage of the Mercedes procession on Sunday. With some interesting battles further down the order why would anyone want to watch Hamilton and Rosberg cruise round in tandem? It seemed the right decision from the TV producers. By the way Niki, did you know the American Moon landing was faked and JFK was murdered by the CIA?
Take a look at the technical updates from Singapore and Japan