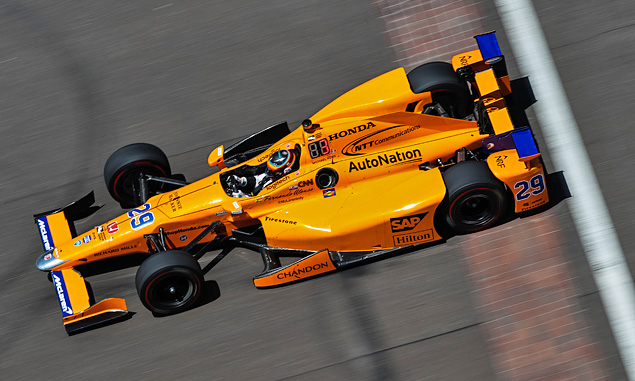 Is McLaren considering a future in IndyCar? The rumours started when Fernando Alonso entered this year's Indianapolis 500 in May and proved the star of the show. But now the rumours that there's more to come just won't go away.
McLaren executive director Zak Brown has certainly quashed stories that Alonso himself might be back in an IndyCar this year. Brown branded rumours Alonso would skip the Singapore Grand Prix in favour of the IndyCar season finale at Sonoma as "fake news".
"He would have to first make that request through us, which he has not," Brown said this week. "It's completely crazy."
But even though that story has been spiked, speculation that the team itself could be interested in joining IndyCar in 2019 just won't stop.
And the source of the speculation? None other than the chief executive officer of IndyCar himself, Mark Miles.
"We know there are options for McLaren to return to the Indianapolis 500 next year with Andretti Autosport," Miles told Spain's El Mundeo Deportivo recently.
"And McLaren remains interested in being a Verizon IndyCar Series team full-time," he added.
"Probably not for the year 2018, but maybe for 2019. Zak keeps asking questions about our calendar."
Mansor Ojeh, one of McLaren's most important shareholders, said in April that the company was considering a "full-works" IndyCar program for the future.
McLaren's existing ties with Andretti Autosport could allow the team to hit the ground running in IndyCar. However that alliance is based in part on sharing a common engine provider in Honda.
However both McLaren and Andretti Autosport are reported to be looking for alternative engine suppliers in Formula 1 and IndyCar respectively. That could thwart any tentative arrangements between the two organisations.
And the possibility of McLaren joining IndyCar is further complicated by Brown's insistence of a McLaren resurgence in F1 first.
"We've got big challenges on the Formula 1 front," Brown told Road and Track's Marshall Pruett. "We need to be getting that right and winning races before we set out in lots of other adventures."
The team did manage to get both Fernando Alonso and Stoffel Vandoorne into the top ten in Hungary. That's that's a big improvement on the first half of 2017, but a long way from topping the podium.
Gallery: The beautiful wives and girlfriends of F1
Keep up to date with all the F1 news via Facebook and Twitter