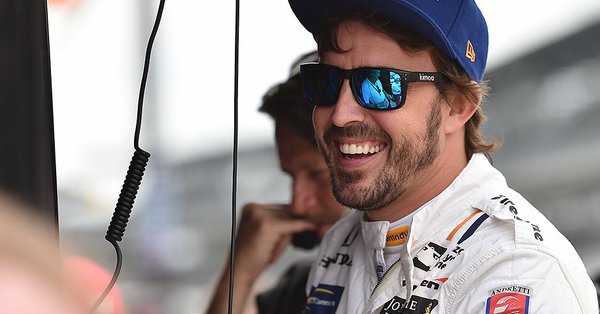 Indy 500 winner Alex Rossi believes Fernando Alonso would return to his winning ways if he joined IndyCar, and the Spaniard offered a facetious response to the call.
With no winning package in sight for next season, Alonso's future in F1 is now clearly in doubt. The Spaniard recently said that he would consider all options for 2018, including a move to IndyCar which he sampled at Indianapolis this year.
Andretti Herta Autosport's Alex Rossi, who also drove for Marussia Manor in F1 in 2015, insists Alonso should make IndyCar his new home next season.
"I think that Fernando wouldn't have any struggles adapting," said Rossi.
"We saw that at Indianapolis, but I think what he would be continually surprised by, as I was, just how good the guys in this championship are and how one tiny mistake – whether it's from driving or setup direction – could cost you a tenth (of a second) and could literally be the difference between (running) fifth or 12th.
"We see that every single session, every single weekend and I think that's pretty crazy.
"I think it would be massive for the championship. "We saw the response that we got from him coming to the 500 and obviously there's more of a global reach that race has versus other races on the schedule.
Alonso read Rossi's comments which were relayed by IndyCar's Twitter account. His response came in the form of a humorous GIF.
We interpret it as a sign that the two-time world champion is indeed contemplating a full-time IndyCar ride in 2018.
But what do you think?
— Fernando Alonso (@alo_oficial) August 30, 2017