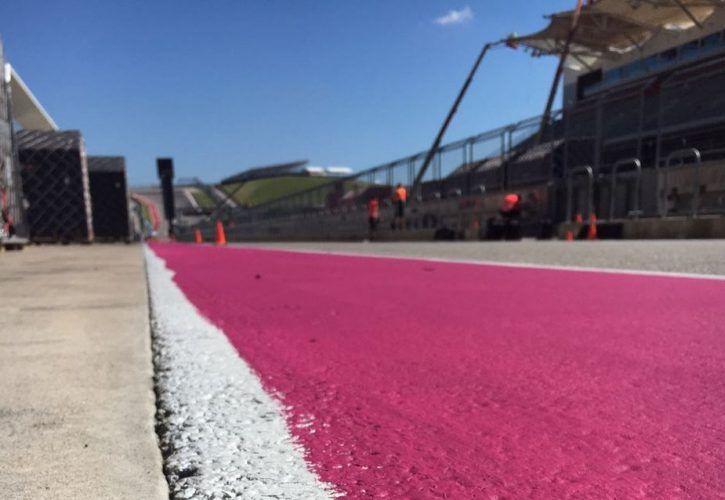 The sixth running of the US Grand Prix at Austin's Circuit of the Americas will hold a special meaning, and one tinted with pink.
Formula 1 and COTA are partnering with the Susan G Komen Foundation, the world's leading breast cancer organisation, to raise vital funds and drive global awareness in the fight against the disease.
A number of initiatives activated this week will highlight the cause with sponsors, teams, broadcasters and the FIA all doing their part on and off the track.
Pirelli will also chip in, painting the rims of its usually purple UltraSoft tyres pink specifically for next weekend's event.
In short, from merchandise items to key parts of the track, COTA has painted everything pink for next weekend, as USGP race promoter Bobby Epstein underlines.
"So it's—I don't know if it's a campaign in other countries but—in the US a pink ribbon, and the pink symbol and the pink theme, especially at sporting events have come to represent the cause of the campaign to raise both awareness and money for breast cancer research," Epstein told F1 reporter James Allen.
"And so this year at the US Grand Prix, there'll be a lot of pink and the goal is simply to raise money.
"F1 is partnering with the Susan G Komen foundation to raise awareness for breast cancer research and I think using the global platform of F1 to raise awareness is of tremendous value to those people whose lives would be bettered by those advancements to breast cancer research.
"Over a half million people die every year due to breast cancer and tremendous strides are being made in the search for cures and treatments," added Epstein.
"I grew up less than two miles from the Susan Komen foundation as their headquarters are in Dallas and I watched them grow and it's nice to see them making great strides towards treatment.
"People may not realise that but the research and research facility are in Houston as well as the Susan Komen facility in Dallas so it's a great effort and Texas has been [important] to cancer research and breast cancer research.
"So that's what we'll try and do this year: help the cause."
Gallery: The beautiful wives and girlfriends of F1 drivers
Keep up to date with all the F1 news via Facebook and Twitter