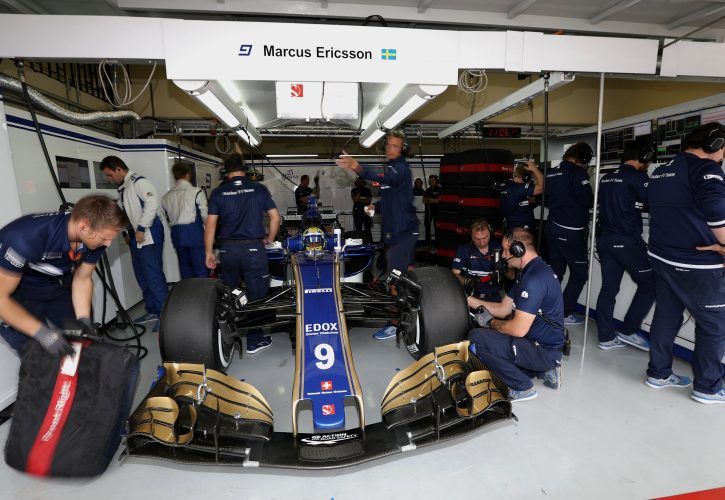 Sauber will likely reveal its 2018 driver line-up in Abu Dhabi, but there could also be another interesting piece of news released this weekend.
The Swiss outfit will once again be powered by Ferrari next season, following an extension of its contract with Maranello which will include up-to-date engines and the likely presence of Scuderia junior Charles Leclerc at the Hinwil team.
Sauber's second seat is still up for grabs however, with incumbent Marcus Ericsson and Ferrari's other junior, Antonio Giovinazzi, both in the running.
Pascal Wehrlein has acknowledged that this weekend's Grand Prix in Abu Dhabi will almost certainly be his last appearance with Sauber.
The German driver pledged to do all he could this weekend, but predicted it would make no difference to his situation.
"Although the championship has already been decided, the Abu Dhabi Grand Prix is always an exciting end to the season," he said.
"For my part, I will invest all of my energy in doing the best possible job. I was told pretty early on that there would probably be no room at Sauber next year," he added.
"If I miss next season, then returning to Formula 1 after that would be very difficult."
Ferrari's Sergio Marchionne, who will likely have the last word on Sauber's line-up, is keen on capitalizing on the manufacturer's ties with the Swiss team, perhaps by rebranding its customer engines as Alfa Romeo.
Earlier this year, the Fiat-Chrysler boss  made clear his ambition of bringing the Alfa name back to F1, in some form or the other.
"I would like to see Alfa Romeo back racing in Formula 1 again someday, because I believe very strongly it's a place the brand should be," he told the FIA's Auto magazine.
A presence in Formula 1 would certainly help restore the legend of a name which provided the very foundation for Enzo Ferrari's historic endeavor.
"The instantly recognisable thoroughbred character of Alfa is something that few other brands can claim or even aspire to," Marchionne added.
"Today the brand is ready to retake its rightful position as one of the world's leading premium car brands."
Gallery: The beautiful wives and girlfriends of F1 drivers
Keep up to date with all the F1 news via Facebook and Twitter