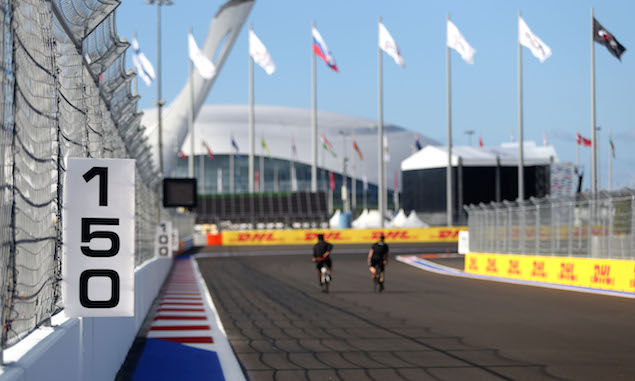 Lewis Hamilton says Formula One should have more than one track designer to produce competition and more exciting new circuits.
Hermann Tilke has been designing the latest circuits to join the calendar, with the location for this weekend's Russian Grand Prix - Sochi Autodrom - the newest track he has worked on. Hamilton says the difference to the last race location at Suzuka is stark and he feels having one track designer leads to many new circuits lacking character.
"We come to Russia after the last race in Japan - and it would be hard to imagine two more contrasting tracks," Hamilton wrote in his BBC column. "The track here in Sochi is very flat, and a massive contrast to Suzuka, which is a real racing circuit, with elevation change, sweeping corners and so on.
"I like that there is a variety of circuits in F1, old and new, but I often wonder why we only have one designer of tracks. Sometimes I think when I retire I will start designing tracks myself and give Hermann Tilke some competition - I've raced and I know what drivers like in circuits.
"I feel that quite often the new generation of tracks don't grasp the true essence of F1. I know there are restrictions to do with safety and so on but the circuits often feel too calculated. I don't know how calculated Suzuka was but it feels like they found a great spot and went with the flow of the land. That makes a real difference.
"Too many of the new tracks have too little character. There are exceptions - Abu Dhabi, for example, and Austin - but this one does not stand out so much."
Rosberg beats Hamilton to Sochi pole
AS IT HAPPENED: Russian Grand Prix qualifying
Gallery: Carlos Sainz's crash in FP3
Keep up to date with all the F1 news via Facebook and Twitter