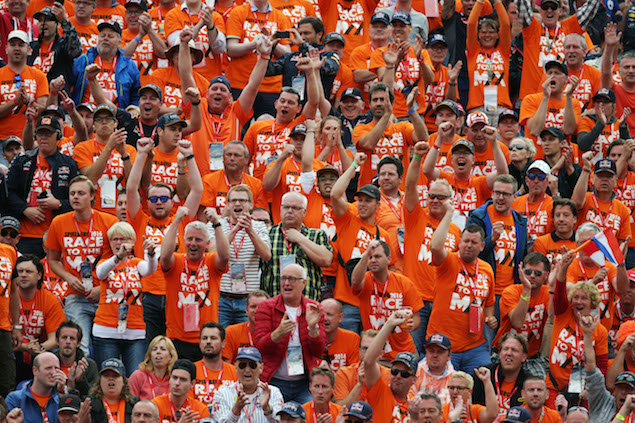 Three-time Grand Prix winner Max Verstappen has been talking to Mobil 1 The Grid about the positive pressure he feels from the legion of Dutch fans cheering him on every week.
Verstappen is the only Dutch driver to have stood on the top step of the podium in Formula 1 history. The 20-year-old credits the 'Orange Army' of supporters with being a big factor in his rise to success.
"The support is always good to have, for sure," he says in the video. "It's positive pressure I think. You just have extra motivation to do well.
"I think the Dutch fans in general are very passionate about Formula 1," he continued. "For a long time we haven't really been successful in it. We've missed that, because in Holland they are passionate about racing in general.
"Of course then if someone is doing well it gets bigger and bigger," he added. "I think a lot of it is because of my dad. The parents in their time were supporting my dad, they're now supporting me. That's of course great to see."
Verstappen's supporters flooded into Spa-Francorchamps for this year's Belgian Grand Prix. It's currently the nearest thing on the current calendar he has to a home race.
"[Spa] was for me the biggest race in terms of home fans," he said. "The track is basically orange then!"
Verstappen's popularity has given rise to hopes that the Dutch Grand Prix might return to the Formula 1 calendar for the first time since 1985.
The sport's new owners are known to be keen on 'destination' races on the streets of big cities like Amsterdam and Rotterdam. But realistically the most likely venue in the country remains Zandvoort, which is located in the dunes near the North Sea coast line.
Verstappen recently drove his Red Bull track at the circuit as part of a demonstration for local fans, and reckons it's a viable prospect.
"We have a historic track - Zandvoort - I think it's definitely capable of [hosting a modern Grand Prix]," he said. "With some changes to the pit building of course and stuff and a bit more space around it.
"But it's a lot of money which needs to be involved and need to be able to get the event started. I think it's still a bit early, but it would be great to have for sure."
Gallery: The beautiful wives and girlfriends of F1 drivers
Keep up to date with all the F1 news via Facebook and Twitter