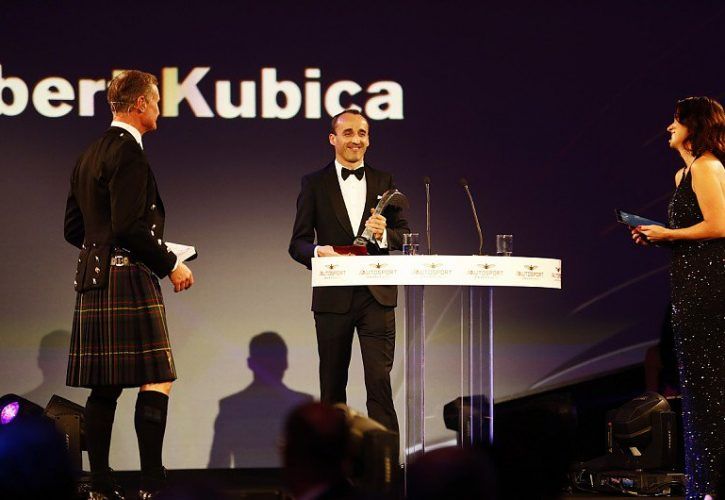 Robert Kubica says the consequences of his right arm injury have led to more limitations in his everyday life than behind the wheel of an F1 car.
The Polish driver and his fans are in waiting mode as Williams ponders whether or not to add Kubica to its 2018 driver line-up after last week's final series of evaluation tests in Abu Dhabi.
Williams' Paddy Lowe gave the driver a clean bill of health and chances he'll be signed as a Williams in the coming days or weeks appear as strong as ever.
Kubica himself has no doubts about his ability to perform once again consistently at the highest level of motorpsort.
"Honestly, I have much more limitations in my daily life," Kubica said at Sunday evening's Autosport Awards in London.
"It's not the same driving an F1 car as it has been in the past. Still my limitations are much less than it looks like.
"Ninety percent of my driving is exactly the same as it was in the old days."
Kubica tested both new-spec cars from Renault and Williams over the course of his multiple test sessions, declaring himself positively surprised by level of physical fitness.
"I'm in better shape fitness wise than I was in the past," he said.
"Now I have to work much harder - age doesn't help. The big difference is the brain. It's incredible how big potential the brain has and how quickly it can adapt to different conditions.
"Unfortunately I was interrupted in my career. I had several injuries. In the end, I learned how to live with them, how to drive an F1 car with them and in the end I'm quite surprised by the results I saw."
Gallery: The beautiful wives and girlfriends of F1 drivers
Keep up to date with all the F1 news via Facebook and Twitter