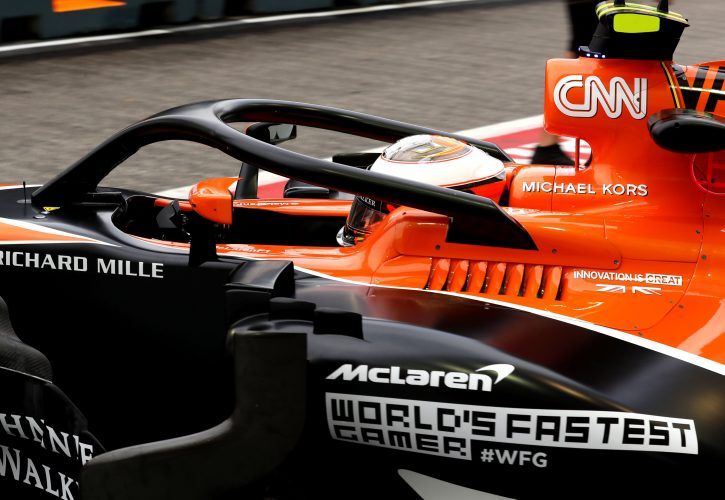 McLaren's Zak Brown says its' early days for the Halo cockpit safety device which will likely evolve into a more integrated structure in the future.
The component was promoted by the FIA for a year and endured multiple trials with all teams before the governing body sanctioned its mandatory introduction in 2018.
While many continue to decry the element's presence and its negative impact on F1's DNA, McLaren boss Zak Brown views the Halo as a work in progress.
"Like all things, it will develop over time, so what the Halo looks like today will be different in five years," says Brown.
"Hopefully it will become a more integrated part, right now it looks a bit bolted onto the car. If over time it can be a little bit more integrated into the car, visibly nicer.
"It compromises around the driver, but equally it creates more commercial opportunity on the Halo itself. So net, it's not a win or a loss."
Speaking precisely of commercial opportunities, Formula 1 is currently analyzing several experimental solutions destined to help teams exploit the Halo on the commercial front.
One idea apparently under consideration is the addition of a digital display which could convey relevant information or messages.
"Formula 1 has been talking about doing some sort of digital on it, so I think we'll make the most of it," said Brown.
"Possibly some sort of almost like ticker running, like you see at the stock exchange. Some kind of messaging – that sort of thing.
"There are some rules around what you can and can't do with the Halo - the inside can't be painted because they don't want the drivers to be distracted."
Gallery: The beautiful wives and girlfriends of F1 drivers
Keep up to date with all the F1 news via Facebook and Twitter