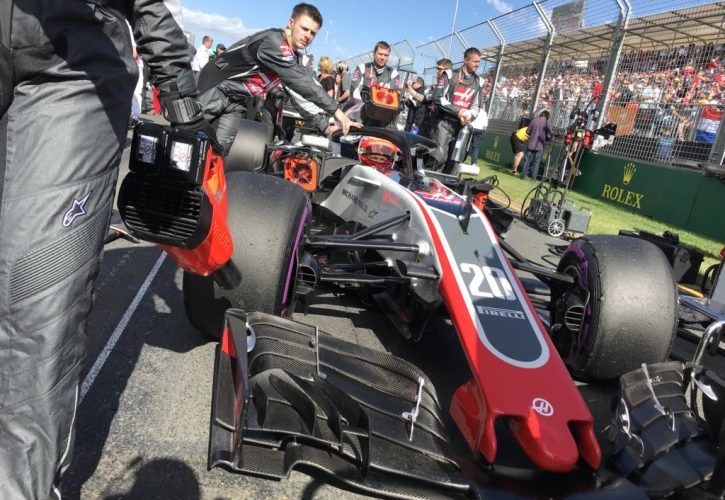 The Haas F1 Team has made a few changes to its pit crews and rely on an additional backstop measure to help prevent the pitstop blunders which marred its race in Melbourne.
Both Kevin Magnussen and Romain Grosjean were victims of a double-stumble by their respective crews in the opening round of the world championship in Australia.
The Haas drivers were running comfortably in the top six at Albert Park when they were forced to park their car following a wheel coming undone.
Team boss Guenther Steiner confirmed on Thursday that the team had rotated a few of its crew members and added an additional member to back up - and eventually override - its automatic release system.
"We swapped a few positions, and the main reason is not because they did the mistake, but getting their confidence back," said Steiner.
"If you keep on doing the same and the guys are not confident, the risk that you have a mistake again is high, so we swapped positions.
"You pair different people and give them different jobs, because you need so many people anyway, and that is what we did for this race, and that is what we are doing since yesterday practicing."
An extra team member as been assigned to the crews and handled the task of confirming a driver's safe release, or of informing him to immediately stop in the event of a mishap that may go undetected by the automatic system.
The US outfit also ramped up its pit stop training, having neglected to practice its wheel changes before Melbourne.
"We put an additional person in, so that if it isn't caught we can stop the car, push it back and put it right," explained Steiner.
"We're just putting in as much as possible – as long as the guys you can see they are physically comfortable to do it," he said.
"As soon as they get tired you don't learn anything – except you wear them out.
"It's for the team manager to decide when that point is reached. But we are going back to do it like we did last year, which we didn't do in Australia."
Gallery: The beautiful wives and girlfriends of F1 drivers
Keep up to date with all the F1 news via Facebook and Twitter