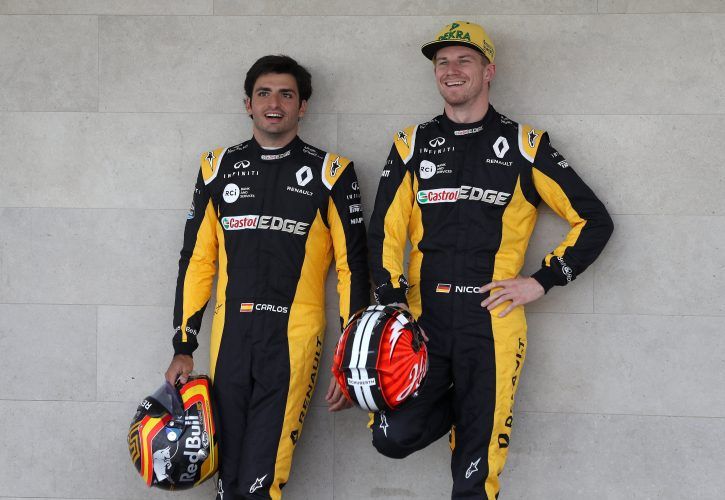 Matching feedback from Nico Hulkenberg and Carlos Sainz is greatly helping the development of Renault's 2018 car says chief technical officer Bob Bell.
While Hulkenberg is in his second season with the French team, Sainz jumped aboard in the latter part of last year from Toro Rosso.
The German driver has outpaced his team mate so far in 2018, but when it comes to their technical feedback, the two men are on the same page which has proven to be a big benefit for Renault.
"They are brilliant, those two," Bell told Motorsport.com.
"They are completely aligned about what they say about the car – and it's not because it's some sort of conspiracy!
"The car has got some obvious faults which they pick up on and tell us race after race, and they are completely aligned.
"A lot of those faults are common up and down the pitlane, all got nervous entries, mid-corner understeer and lack of traction on the exit. Some teams have got it more than others, the traits are quite similar, I suspect.
"The drivers are great, aligned on the issues of the car and that makes our jobs much easier. It's been a real pleasure to work with both of them."
Hulkenberg admits he's not surprised by the common ideas he shares with Sainz, given the professional approach shared by both men and their aim of improving their team's performance.
"Yeah, we seem to want the same thing from the car," the Hulk told Motorsport.com.
"That's good, both drivers asking for the same sort of thing, giving the same sort of feedback, makes it easier for the team to tackle the problems."
"We're both doing our job, we're professional enough, we have respect for each other.
"We're both trying to do the best job for the team and for our own careers, it works totally fine."
Gallery: The beautiful wives and girlfriends of F1 drivers
Keep up to date with all the F1 news via Facebook and Twitter