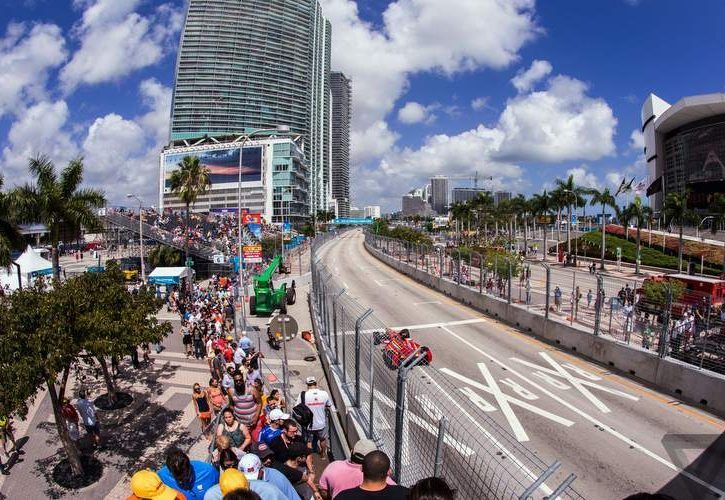 Miami's City Commission has given the green light for its representatives to enter talks with The Formula One Group for an F1 race in the Magic City.
In a public hearing on Thursday the Commission's five members unanimously voted through the motion supporting plans for a Grand Prix in Miami.
"F1 is a worldwide sport with approximately 1.8 billion TV viewers annually," said Miami Mayor Francis Suarez during the hearing.
"I believe it will help in the transition of the City of Miami from a gateway city to a global city."
The preliminary approval was a crucial first step for the organization of an event which could take place as early as next year, in October.
"We are very pleased to have received preliminary approval towards bringing a Formula One Grand Prix to Miami," said Sean Bratches, Formula One's commercial director.
"Formula One in Miami represents a fantastic opportunity to bring the greatest racing spectacle on the planet to one of the world's most iconic cities, and we are delighted that the journey is underway."
The Biscayne Bay area has been designated as the potential location for the race, with a circuit running from the American Airlines Arena past Miami's Freedom Tower before heading across the harbor and back toward downtown.
Four-time world champion Lewis Hamilton was delighted with the prospect of racing in Miami but less impressed with the track's proposed layout, even offering to redesign the street circuit.
"Miami is a super-cool place and I was very excited to hear about it, but when I saw the layout I was like, meh... I think it could be a lot more fun," Hamilton told reporters Thursday in Barcelona.
"I don't get why, for example, in golf, all the great golfers design golf courses.
"You have not got any of the top racing drivers in history having ever designed a race track, and I don't get it. Not that any of us are designers, but they haven't asked for our input.
Hamilton hopes that perhaps the track would be more fun to drive than what its layout suggests.
"You have got two of the longest straights, but maybe when you drive it will be fun," said the Mercedes driver.
"I dread the thought of a street circuit like we had in Valencia, which wasn't a great street circuit.
"Maybe it is a hit, but if there is time and anyone wants to approach me or any of the drivers, I am sure we can give some good insight to what the layout is like and how it can be better.
"I know Miami quite well, so there are a few better locations (in which) to put the track."
Gallery: The beautiful wives and girlfriends of F1 drivers
Keep up to date with all the F1 news via Facebook and Twitter