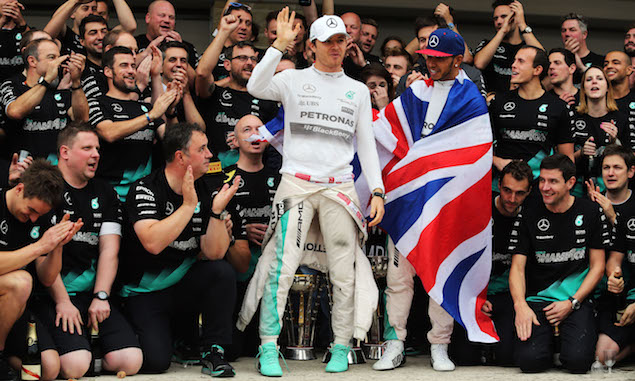 Toto Wolff has described Lewis Hamilton and Nico Rosberg as "enemies in the same team" following Hamilton's third world championship.
Hamilton secured back-to-back titles courtesy of victory in the United States Grand Prix, with Rosberg having led but made a mistake in the closing laps to hand his team-mate the lead. With the two Mercedes drivers coming together at Turn 1 at the start of the race, Wolff admits he will have to manage the relationship to prevent a rift forming between the two.
Rosberg was clearly unhappy following the race, throwing a cap back at Hamilton while sat in the drivers' room before dejectedly standing to one side on the podium and not spraying the champagne.
Asked if he would like to see Rosberg happy for his team-mate after the championship was decided, Wolff replied: "No, that is never going to happen.
"They are enemies in the same team and it is clear that we cannot expect him to cheer up in such a situation."
And Wolff sympathised with Rosberg's reaction to Hamilton's title victory after such a difficult race in Austin.
"Yeah, but it's clear as a racing driver who has just lost a world championship for a second time against his team-mate in a tough race where certainly Turn 1 wasn't very nice and then he lost by his own mistake. It's clear that if he is upset we have to have respect for that."
Lewis Hamilton: Three-time F1 world champion
United States Grand Prix - Driver ratings
Click here for the F1 drivers' girlfriends gallery
Keep up to date with all the F1 news via Facebook and Twitter