In less than three years, Gene Haas has put his eponymous outfit in the thick of F1's midfield battle, and he's done it despite having to split himself between his NASCAR and F1 teams, not to mention his main tool business, Haas Automation.
Stewart-Haas Racing's credentials this season in America's premiere auto racing series include nine wins, seven with Kevin Harvick and two with Clint Brower.
Across the Atlantic, the Haas F1 Team has yet to secure its first podium in F1 but Gene Haas is pressing on, insisting his squad is a direct beneficiary of Stewart-Haas' success in the NASCAR Cup Series.
"We're really doing well," Haas told Autoweek . "I learned a lot in NASCAR -- it's kind of the people you know, the relationships you've formed, and putting people in charge who really understand racing.
"A lot of the other Formula 1 teams have business hierarchies that really don't understand what racing's about.
"I think they have a tendency to make some decisions that are a little more judgmental than, say, from a racing point of view."
"In our third year, we kind of look at it as we keep moving the bar up," he added.
"I think we've gotten into Q3 five or six times. We've double-scored points twice. Those are things that maybe don't mean a lot to the big teams, but for us, that's an accomplishment.
"f we finish fifth, we won. That's what we think.
Haas' progress this year in F1 is undeniable, helped in no small part by its technical collaboration with Ferrari. While the sport requires total engagement and dedication, delegating day-to-day operations to a highly competent partner and associate has allowed for Haas' personal diversification.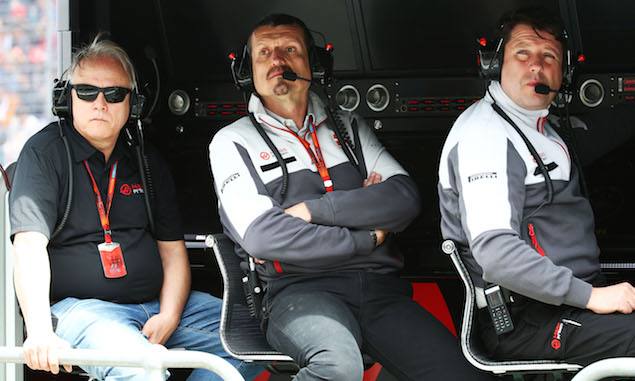 "It makes life interesting to do a lot of different things," he added.
"Racing and machine tools, for me, have always been one and the same. I feel very comfortable with that, but on the other hand, I have a lot of other racers who help with the racing."
"Obviously, I have Tony Stewart as a partner (in NASCAR) and I have Guenther Steiner in Formula 1.
"So, if anything, they're always keeping me apprised of what's going on. I feel fairly confident with what they're doing. They ask my opinion and as best I can, I give it to them."
"I'm really just doing the same thing I did when I was 16 years old. I'm working on cars and building machines," added Haas one imagines with the enthusiasm of a teenager."
Gallery: The beautiful wives and girlfriends of F1 drivers
Keep up to date with all the F1 news via Facebook and Twitter