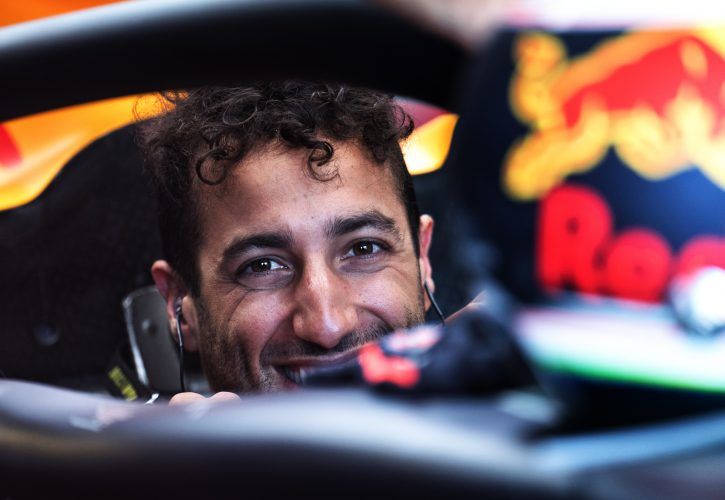 Daniel Ricciardo had a disappointing time of things at Spa, but he's hoping to put all that behind him this weekend in Monza.
Ricciardo suffered damage to his Red Bull at the start of the Belgian Grand Prix that put him two laps down. He eventually retired from the race and now faces the prospect of grid penalties in Monza for taking a new engine.
"It looks likely that I will be taking some engine penalties," he acknowledged this week. "It's obviously not ideal.
"But Monza is a power track and one that we haven't been hugely strong at in recent years.
"It does mean plenty of action and fun for me in the race, though," he added. "I've done some of my best overtaking moves there and I plan on doing plenty more this week.
"Last year I finished fourth from 16th on the grid, so it won't be boring if I have to do the same again this year."
His team mate Max Verstappen had a better time in Spa, finishing on the podium in a rather lonely third place.
The same again in Italy would suit him just fine, but he knows that the nature of the Autodromo Nazionale Monza makes that a tall order for Red Bull and its current engine provider Renault.
"Monza is fast, very fast," he said. "This makes it great fun but at the same time not ideal for us and our car. It is an old school track, one of the few left.
"Racing somewhere with such history is quite special and I always look forward to going back there.
"The highlights of the circuit for me are the last chicane, Ascari, and the final corner, Curva Parabolica. To nail the last corner is not easy but when you do it feels really nice."
Spa was packed with Dutch fans wering bright orange in support of Verstappen at what is practically his home race. But things will be very different in Monza.
"The Italian fans will be out in force as always supporting Ferrari," agreed the 20-year-old. "They are very passionate and really good to see.
"Hopefully the orange crowd will rival the red this year!" he added.
Meanwhile Ricciardo is hoping that some of all that Italian love will be aimed in his direction this weekend.
"Monza is full of crazy Italian fans. I love them all and it's nice to get a bit of extra love from them with my Italian roots.
"Monza has the best Pizzeria in the world," he added. "But I'm not going to tell you the name as I still want to be able to go there without queuing out of the door!"
Gallery: The beautiful wives and girlfriends of F1 drivers
Keep up to date with all the F1 news via Facebook and Twitter