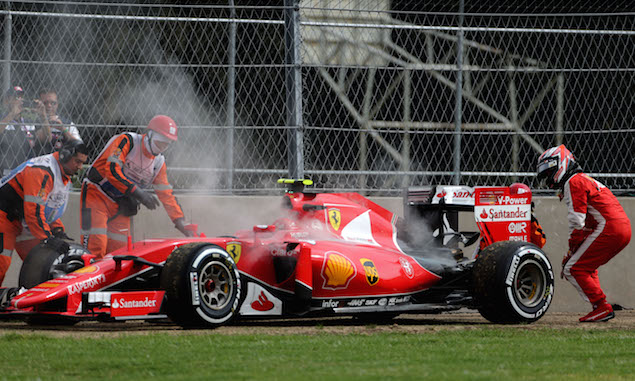 Kimi Raikkonen says a brake problem was to blame for his early exit from qualifying for the Mexican Grand Prix.
Having stopped on track during FP3 (pictured), Raikkonen was late out in Q1 after his engine and gearbox had to be changed, with the latter carrying a five-place grid penalty. Raikkonen then made it through to Q2 but spun at the end of the main straight on medium tyres and he says a problem with the brakes was to blame.
"In the morning we had an issue and had to stop the car," Raikkonen said. "We had to change to an older engine we had already run before and also change the gearbox, because we had a fire in the car. Obviously there was not a lot of time to get the car ready for qualifying, but the mechanics still managed to do it, so that was one of the few positive things today.
"With the limited time we had to prepare the car we ended up having a small issue with the brakes. The plan was just to get into Q2, because we knew we were going to get a penalty for the gearbox change and it didn't make sense to go through to Q3, because like this we can at least chose what tyres we use at the start of the race.
"It was a difficult day, we always try to do our best but sometimes we have issues and we try to deal with them as well as we can."
And Raikkonen hinted Ferrari will change to a different power unit for the race due to his lowly grid position.
"If there weren't differences we wouldn't use new specs if we didn't think they were better. There's always, even between a new and an old engine, a small gain, but we'll see. We're at the back of the grid, so whatever we do it won't really change our starting position. We're free to do what we want, really."
REPORT: Rosberg beats Hamilton to Mexican GP pole
AS IT HAPPENED: Mexican Grand Prix - Qualifying
Click here for the F1 drivers' girlfriends gallery
Keep up to date with all the F1 news via Facebook and Twitter