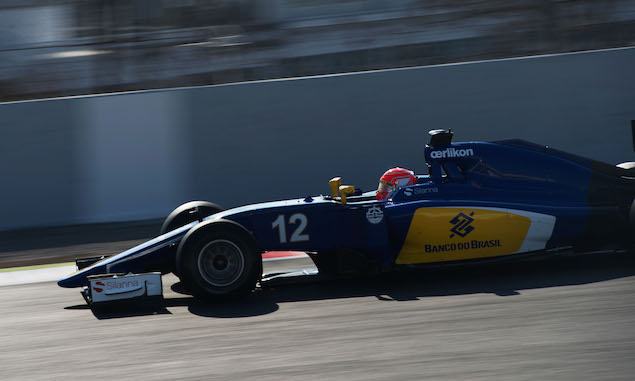 Felipe Nasr doesn't believe he was at fault for his collision with Susie Wolff during testing but says he doesn't blame the Williams driver either.
Wolff and Nasr collided on the approach to Turn 5, with the left front of the Williams hitting the right rear of the Sauber as Nasr attempted to overtake. Explaining the incident at the end of Thursday's running at the Circuit de Catalunya, Nasr said he thought he was being allowed through but Wolff had told him that she had not seen him trying to pass.
"I was on a pushing lap and I could see her leaving the pits at that time so we she was driving quite slowly in front of me," Nasr said. "As I did Turn 4 I caught up with her and I did see her moving to the right so I thought that she knew I was coming because she was just on a slow lap leaving the pits.
"Then I committed myself to the braking for Turn 5 on the inside, and when I was doing the braking I just felt a big hit on my rear suspension. So I think she never saw me coming.
"That was the only thing I asked her - if she saw me - and she said she didn't see me coming."
And Nasr admits he can't blame Wolff for not seeing him, but feels Williams should have told her that the Sauber was approaching on a flying lap.
"I was clearly in the braking zone already so a few metres after the braking suddenly I felt a big hit. When I was committed to the move it was because I saw she was enough to the right so giving up the room for me, but I don't know how much she was aware of my car coming.
"She told me she didn't see my car coming so I can't blame her for not seeing my car, but I don't really know what to say. In Formula One I think the teams are always trying to give you the best information they can on what cars are around you and what cars are coming behind. I think maybe that was something that she missed and it could have been avoided, I would say."
Full times and day one of the second test as it happened
Click here for the gallery from day one of the second test
Keep up to date with all the F1 news via Facebook and Twitter