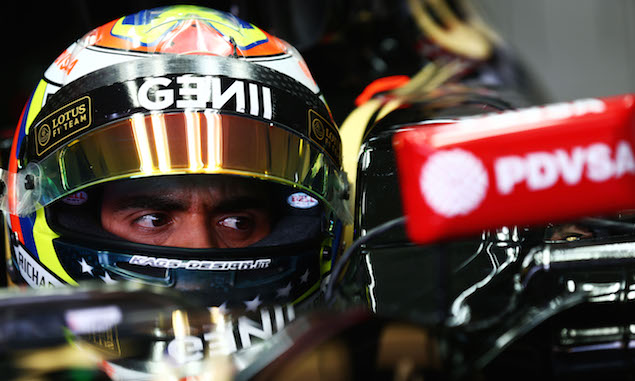 Pastor Maldonado says setting the fastest time in testing is "not enough" to satisfy him with the new Lotus.
Two red flags in the morning session limited Maldonado's running, but in the afternoon he went fastest on the soft compound tyres. In playing down the headline time, Maldonado says he doesn't want Lotus to get carried away by the fact that it was fastest and highlights the car's improved reliability compared to 12 months ago as the more encouraging factor of the day.
Asked for the cause of the stoppages in the morning, Maldonado replied: "Some sensor failures, but very easy to avoid the problems.
"I think from my point of view, in terms of reliability it's a huge step forward from last year. We saw that even at the last test at Jerez, with a new car we were running immediately, it's positive. The day was good, I'm a bit happy but it's not enough so we need to try to improve some particulars in the car.
"I know it's still early but we don't have a lot of time to think about it, we have to react soon and be fully ready for the first race."
And Maldonado says Lotus has yet to run the Mercedes engine at 100% due to the amount of work it has to do with a new power unit.
"It's a new engine for us, we are just trying different things with the engine. It's not just about the power, it's about the whole package which is coming together at the moment in terms of mappings. Even with the gearbox we are getting to a good point now. We started the day with a few problems, but we've been solving the problems through the day and in the afternoon it was a much better car."
Full times and day one of the second test as it happened
Click here for the gallery from day one of the second test
Keep up to date with all the F1 news via Facebook and Twitter