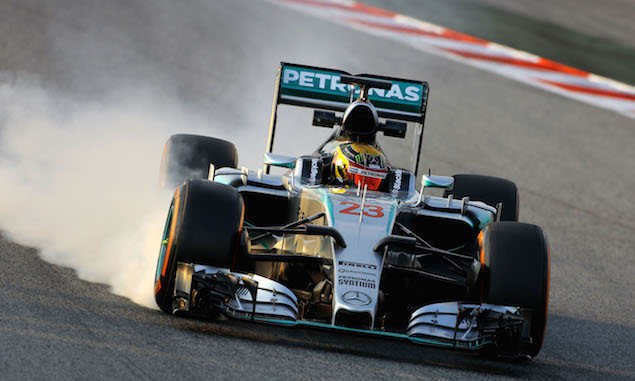 Mercedes was hit by fuel system issues on the opening day of testing as Pascal Wehrlein received a surprise call-up to the team.
Lewis Hamilton was due to drive on Thursday but withdrew after ten laps due to a fever, with Mercedes opting to put Wehrlein in the car despite the reserve driver already driving for Force India. However, a fuel system issue limited Wehrlein to just 48 laps despite having first gone out in the W05 before the lunch break.
Wehrlein admits the call-up was a surprise, but says he enjoyed the opportunity to drive two different cars on the same day even though Mercedes hit reliability trouble.
"For sure I was quite surprised in the morning when I got the information to drive the Mercedes but I think to drive two cars in one day was amazing and I was happy," Wehrlein said. "The day was good, we had a few problems in the afternoon with the car and I lost a bit of time, so I only had three runs in the Mercedes which wasn't that much but the time I had I enjoyed, as well as the time in the Force India."
Nico Rosberg is set to take over the W05 on Friday, with Wehrlein saying he believes a neck problem has subsided.
Full times and day one of the second test as it happened
Click here for the gallery from day one of the second test
Keep up to date with all the F1 news via Facebook and Twitter