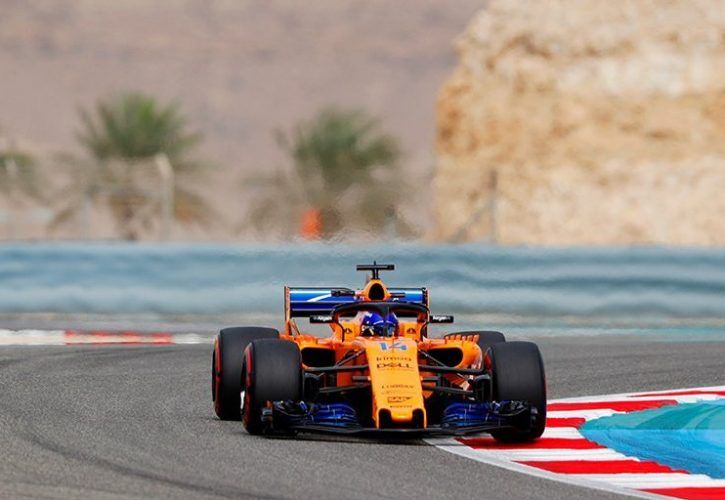 A few laps onboard a pre-hybrid era McLaren this week in Bahrain reminded Fernando Alonso of the vociferous engine noise missing from Formula 1.
Alonso spent a day last Monday at Sakhir to sample Jimmie Johnson's NASCAR ride while the seven-time Monster Energy Cup champion put himself to the task behind the wheel of a 2013 McLaren MP4-28.
Before Johnson slot himself into the papaya machine Alonso requested a few laps onboard the Mercedes-powered McLaren, just a day after retiring from F1 in Abu Dhabi.
"It was not planned to be honest," said Alonso. "I was supposed to only drive the other car but it made sense if I was doing the installation lap just to make sure the car was feeling OK.
"I found myself in the cockpit at 11am this morning after retiring yesterday.
"It was a lot of fun even if from the inside of the car the noise is not so different compared to the cars we are driving now.
"But even from the outside it was again something very, very special. So, we are missing a lot of action because of the sound right now."
Indeed, the piercing, strident cry of the V8-engined car was a blatant contrast to the low-key, muffled sound of F1's current generation of turbo hybrid power units which have often been decried by fans and pundits alike since their introduction in 2014.
While lamenting the music from the past, Alonso insisted his achievements in F1 surpassed his wildest dreams.
"There are things that I will miss from Formula 1, things that I will not miss, and I will try to take the positives," said the Spaniard.
"It's going to be a good memory. The whole package in Formula 1 was a fantastic journey.
"From a young age until now fighting always in any circumstance, in any car, and I think achieving a lot of success that I never expected.
"I will come back maybe one day as a tourist, as a commentator maybe, and enjoy Formula 1 in a different way."
Gallery: The beautiful wives and girlfriends of F1 drivers
Keep up to date with all the F1 news via Facebook and Twitter