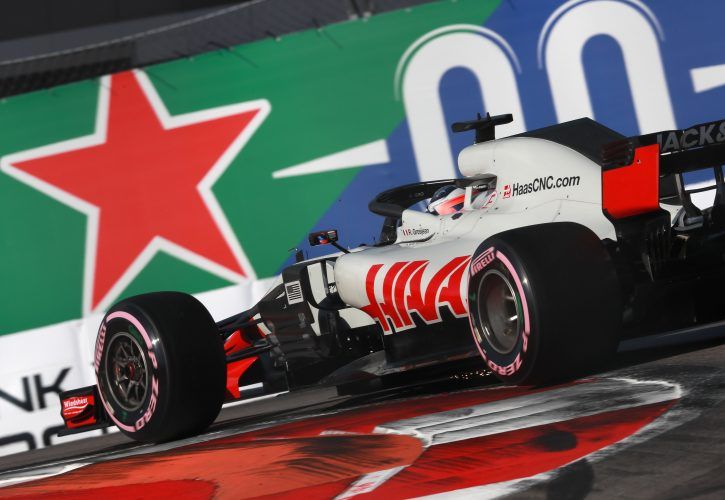 Haas boss Guenther Steiner says the fact that the US outfit was able to learn from its mistakes and subsequently improve was one of the most important aspects of its 2018 campaign.
Haas embarked on its third season of Grand Prix racing this year and scored almost double the amount of points it collected in 2017, a result that delivered a fourth-place finish to the team in the Constructors' standings and validated its progress.
There were nevertheless a few mishaps over the course of the year, like the team's very costly double pit stop blunder at the opening round in Melbourne.
Steiner insists however that the outfit's crews crucially wised up on the back of their errors.
"For me it is important that if you make a mistake once, it is not okay, but the important thing is you don't make the mistake a second time," he said. "That is when you call it learning.
"Like in the pit stops. We had this disaster in Australia, but we didn't have one [problem] afterwards, so we are in a good place.
"We just now need to make sure we keep this good place, because the pit stops after Australia they were for sure slower than they should have been, but that was the right thing to do until we got our confidence back and our processes back.
"We reacted rightly. No one was there just blaming somebody. We said, 'okay, we have to better this,' and we did. This is one of the things we got better at this year."
As a solid mid-field contender this year, Haas found itself battling Renault for the honorary title of 'best of the rest' behind F1's unassailable trio of front-runners.
While the team was ultimately defeated by the French squad when the curtain fell in Abu Dhabi, Steiner says it only had itself to blame.
"I think it was our own fault that we didn't finish fourth," explained the Italian.
"We never have to forget that we are only in our third season. To finish fifth is great - and to finish first of the privateers I would call it, because the guys in front are all works team except Red Bull, which works like a works team.
"There is always this 'we could have been fourth'. But could and would doesn't get you anything. So I decided to be happy with fifth."
Gallery: The beautiful wives and girlfriends of F1 drivers
Keep up to date with all the F1 news via Facebook and Twitter