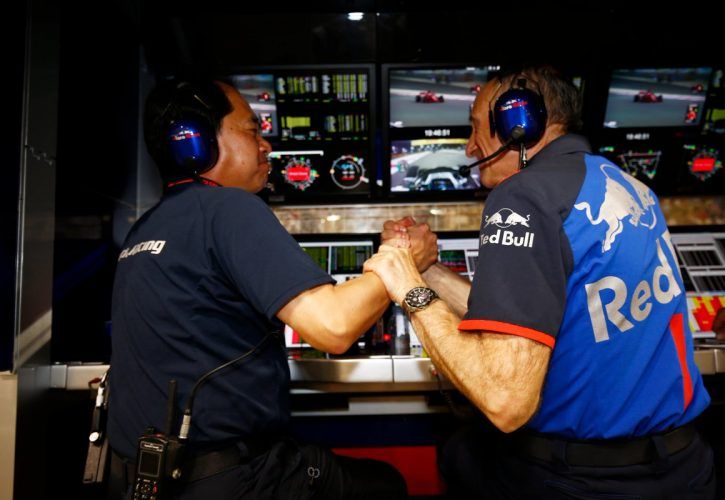 Honda F1 boss Masashi Yamamoto says the biggest change for the Japanese manufacturer in 2018 was the "much better communication" it enjoyed with Toro Rosso compared to McLaren.
After three years of under-performance and an inability to gel, the Honda-McLaren partnership was dissolved at the end of 2017, with the engine supplier switching its allegiance to Toro Rosso.
Honda's engineering department made great strides in 2018, but it was on the communication front that its collaboration with the Faenza-based squad significantly deferred from McLaren.
"The biggest change to Toro Rosso [compared with McLaren] is we had much better communication with the team compared to the past," Yamamoto told Motorsport.com.
"As a result of that we had better connection between the chassis and power unit on the technical side.
"In terms of the engine itself we were able to see the improvement of reliability and performance. We had Spec 2 and Spec 3 and improved the performance gradually. It was a good preparation for next year.
"We had some troubles at the beginning of the year, reliability issues, and some delay on development but in the end both reliability and performance improved."
Next year, Honda will add Red Bull Racing to its F1 supply deal, the Milton Keynes outfit having witnessed firsthand its future partner's progress.
According to Yamamoto, the power unit update introduced by Honda in Canada was the deal breaker in convincing Red Bull to part ways with Renault and take on Japanese power.
"The key point was the race performance in Canada. We were able to prove we could step forward to a certain level and were able to get trust from Red Bull," added Yamamoto.
"After that, we were able to continue in that environment. Red Bull was also seeing that. I think the relationship is quite stable and good, and we are getting that trust. I'm excited and looking forward to next year.
"So if we can accomplish or complete our programme for next year on schedule, we can have a good relationship and results with Red Bull."
Gallery: The beautiful wives and girlfriends of F1 drivers
Keep up to date with all the F1 news via Facebook and Twitter