Eddie Irvine says he could hold his own against most of his F1 rivals during his career, except for his Ferrari team mate Michael Schumacher.
In an extensive interview with the BBC Northern Ireland's Andy Gray, Irvine recounted his life in the fast lane and offered his two cents on F1's current state of affairs.
After labeling Sebastian Vettel a "massively overrated one trick pony", admitting that he finds modern F1 "incredibly boring", the former 53-year-old driver candidly confessed that during his four-year spell with Ferrari, he could beat anyone but the unassailable Schumacher.
"The Schumacher part sucked because if I had any other team-mate it would have been quite good for me," Irvine contended.
"I think apart from Schumacher, there weren't many people out there who were better than me. Schumacher was just another world.
"It would have been quite nice if I had a [Gerhard] Berger or [Jean] Alesi because I think I could have beaten them, but to drive for Ferrari is another world. You have no idea of the level.
"You become like a rock star more than just a sportsperson. It's incredible the power that the association with the Ferrari name, gives you - you can get drunk on it to a certain extent.
"Even now when I'm in Italy, I eat for free a lot of places, I drink for free a lot of places," which perhaps explains Irvine's uncanny ability to protect his hard-earned capital.
"To be a Formula 1 driver is one thing, to drive for Ferrari is to be a Formula 1 driver on a magnitude of 10."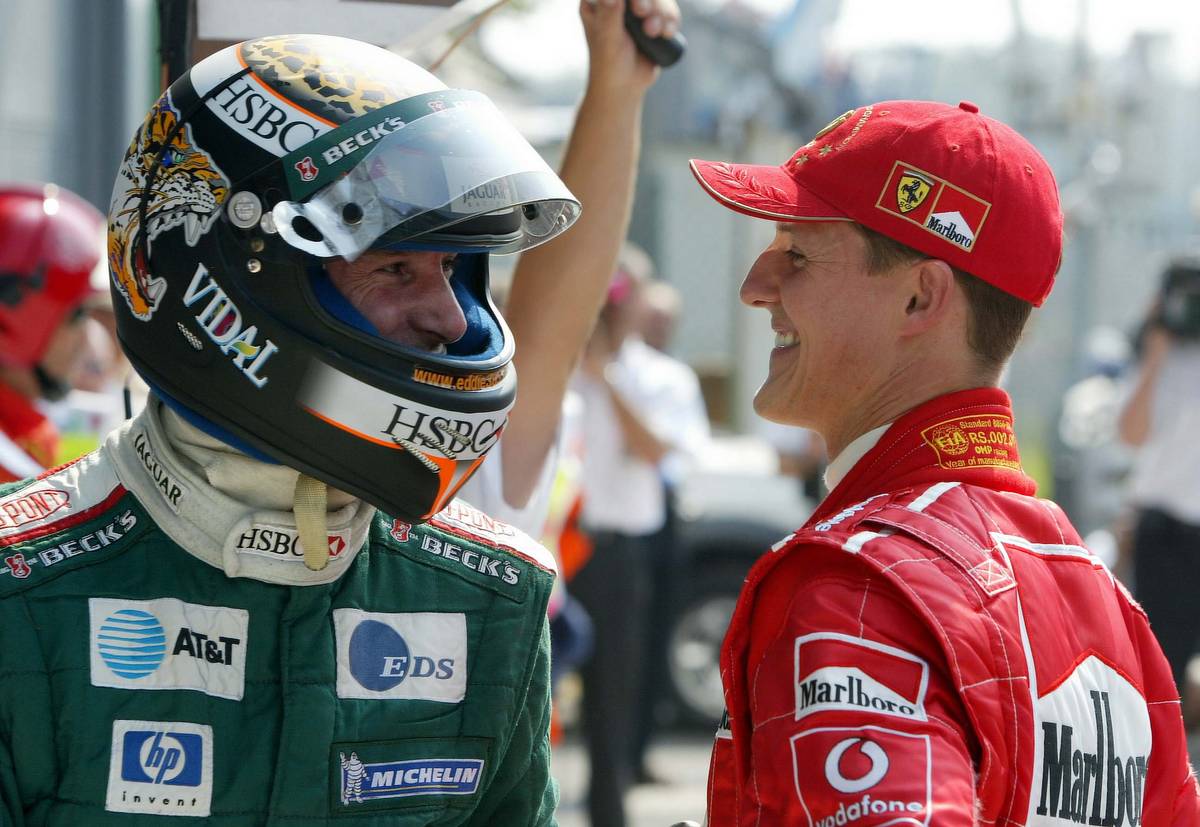 As good as he believes he was - and his conviction of his talent is apparently very high - Irvine never came close to being a contender for the world title, except in 1999, when circumstances gave him a clean shot at the crown, which he missed.
After Schumacher broke his leg at Silverstone and was forced to the sidelines, Irvine became the de facto leader of the Scuderia, but he ultimately came up short for the title by two points against McLaren's Mika Häkkinen.
"The main problem that year was as soon as Michael had his accident, Ferrari took the car out of the wind tunnel," explains Irvine.
"They stopped developing that car and put next year's car in the wind tunnel.
"It made sense for Ferrari because the chances of me winning the world championship were low," he admits, finally helping himself to a slice of humble pie.
"They had to make a very clear business decision, 'Can Irvine win in a 1999 Ferrari?' Everybody would have said no, including myself, because the McLaren was a second a lap quicker than our car that year.
"They know Michael is coming back for next year, and Michael is the superstar, so it made total sense."
Poor Edmund, but for the presence of the unassailable Schumacher, all those titles could have been his!
Gallery: The beautiful wives and girlfriends of F1 drivers
Keep up to date with all the F1 news via Facebook and Twitter