Charles Leclerc put Ferrari back at the top of the timesheet in Barcelona on Wednesday, the Monegasque producing a new fastest lap in pre-season testing.
Leclerc dominated the final 30 minutes of the morning session, edging Toro Rosso's Alex Albon, the only other driver to produce a sub-1m17 lap and McLaren's Lando Norris.
Pre-season test Day 7 - Morning session
| Pos | Driver | Team | Time | Laps |
| --- | --- | --- | --- | --- |
| 1 | Leclerc | Ferrari | 1:16.231 | 55 |
| 2 | Albon | Toro Rosso | 1:16.882 | 75 |
| 3 | Norris | McLaren | 1:17.084 | 66 |
| 4 | Gasly | Red Bull | 1:17.091 | 44 |
| 5 | Hulkenberg | Renault | 1:17.496 | 73 |
| 6 | Stroll | Racing Point | 1:17.556 | 37 |
| 7 | Giovinazzi | Alfa Romeo | 1:17.639 | 49 |
| 8 | Hamilton | Mercedes | 1:18.097 | 85 |
| 9 | Russell | Williams | 1:18.130 | 45 |
| 10 | Magnussen | Haas | 1:18.199 | 33 |
Barcelona continued on Thursday morning its run of perfect weather on the penultimate day of pre-season testing.
But the elements were the least of Ferrari's problems, the Scuderia hoping to be spared the drama that marred its running yesterday when a wheel rim failure sent Sebastian Vettel flying into the barriers, fortunately with no consequences for the German driver.
While Mercedes and Renault continued their split driver-duty routine, Ferrari assigned Charles Leclerc to a full day of testing, his last before the long haul Down Under to Melbourne.
Installation laps were followed by the usual measurement tours, with rakes, sensors and various protruding devices, but eventually Renault's Nico Hulkenberg and Racing Point's Lance Stroll were the first drivers to pick up the pace.
Sixty minutes into the session, Lewis Hamilton overhauled both men, dropping the morning's benchmark to 1m18.097, with many expecting the Mercedes camp to soon unleash the full might of the W10.
The Brit's marker was beaten by a sub-1m18 lap by Red Bull's Pierre Gasly however, the Frenchman running on a set of C3 tyres while Hamilton had achieved his time on C2s.
But the top of the timesheet was definitely seen as McLaren's turf and that's where Lando Norris promptly put his MCL34.
The two-hour mark saw a raft of improvements, with Hulkenberg first demoting Norris with a 1m17.496s and then Toro Rosso's Alex Albon staking a claim to P1 with a 1m.480s.
Norris would have none of it however, the Brit's C4-shod McLaren dispatching the Toro Rosso with a 1m17.084s that Gasly almost bettered.
At the other end of the charts, Williams and George Russell continued their data-gathering programme, just behind Haas' Kevin Magnussen.
The drama-free quick morning continued to unravel with plenty of purple sectors on the screens, and Leclerc picking up the SF90's pace to slot himself among the top-three fastest runners, and doing it while using Pirelli's harder compound, a sure sign of the Ferrari's superior pace relative to its rivals.
The sub-1m17 barrier was in sight and, sure enough, it was breached, by none other than Albon, the rookie laying down a 1m16.981 to establish the fastest winter lap so far of the Circuit de Catalunya.
The Toro Rosso rookie even shaved almost another tenth off his time to settle himself at 1m16.882.
Leclerc was breathing down Albon's neck however, flexing his muscles as he upped the pace. Fitted with a set of 'ultrasoft' C5 rubber, the Ferrari bolted past the finish line in 1m16.658s to seize the lead.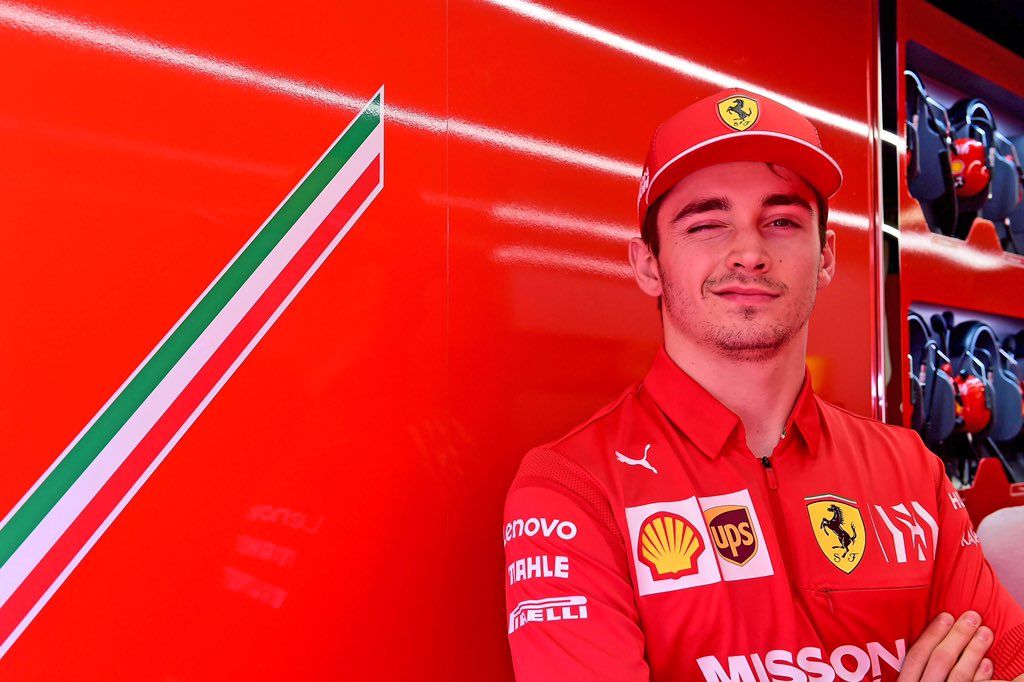 Relentless, the Monegasque then tacked on a 1m16.361 to put some air between himself and those behind.
A look at last year's qualifying times for the Spanish GP indicated that Leclerc was fast approaching Hamilton's 1m16.173 pole, a remarkable performnce given how F1's new rules were expected to slow this year's new-spec chargers.
Leclerc wasn't done however and in the dying minutes of the session, he earned his fair share of pasta during the lunch break with a definitive - for the morning - 1m16.231.
Gallery: The beautiful wives and girlfriends of F1 drivers
Keep up to date with all the F1 news via Facebook and Twitter