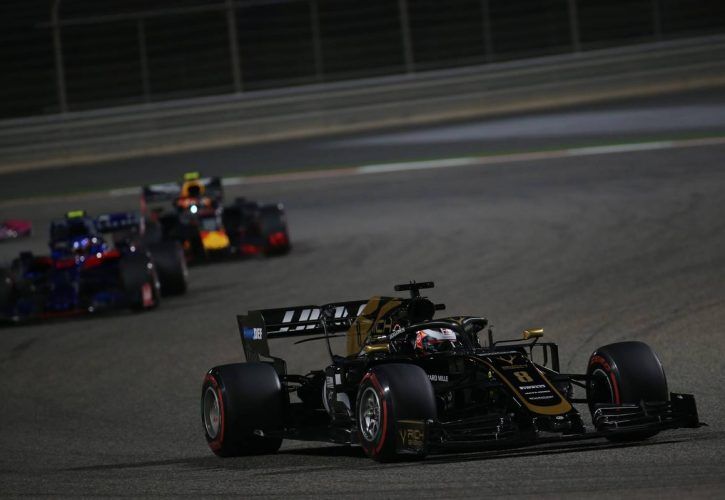 Proclaimed the leader of F1's mid-field after Melbourne, Haas was nowhere to be seen on Sunday in Bahrain, much to the amazement of team boss Guenther Steiner.
The US outfit had delivered a good performance in qualifying, placing both its drivers in the top-ten, but come race day it all went backwards for Kevin Magnussen while Romain Grosjean was out of contention as early as the opening lap after a contact with Racing Point's Lance Stroll.
"We just don't know what happened," said Steiner.
"We have no idea what happened. I should be more down, but I'm not even upset. I'm just more amazed than upset.
"After qualifying, we had yesterday and then ending up in the race not knowing why the pace was lost overnight, it's so weird, I have no idea."
Magnussen pointed to his VF-19's lack of straightline speed at Sakhir, a possible reason for his evening struggles, although the Dane felt that something else had undermined his performance.
"We were hopeless all the way from the beginning to the end," he said.
"We were very slow on the straights, so we had no chance to defend from anyone. We were so good in qualifying, so the car must be good.
"But something wasn't right today and we need to work hard to understand what went wrong today because clearly, we have a good car when we get it working."
Steiner was confident Haas would get to the bottom of its race pace issues during this week's two-day test in Bahrain which begins on Tuesday.
"On the good side of things, we can test here Tuesday and Wednesday," he added.
"So we at least have the chance to find out what is happening and get a good picture of it.
"No one overtook us in the constructors' standings, so at least the damage wasn't too big. By no means am I happy but the damage isn't too big."
Gallery: The beautiful wives and girlfriends of F1 drivers
Keep up to date with all the F1 news via Facebook and Twitter