Pirelli has released the team's tyre selections for next week's Chinese Grand Prix, revealing that McLaren's Lando Norris and Carlos Sainz will have a healthy inventory of soft tyres at their disposal.
The McLaren pair has stocked up on the C4 compound, with nine sets of the red tyre for each driver, while the majority of the field has chosen either eight or seven sets.
Mercedes' Lewis Hamilton and Valtteri Bottas will each rely on eight sets of the C4 rubber, but the reigning world champion has chosen an extra set of the medium compound compared to his team mate while the Finn has gone for an additional set of the hard tyres.
Compared to the Silver Arrows squad, Ferrari's tyre allocation differs with Sebastian Vettel and Charles Leclerc opting for seven sets of the red softs.
However, the Bahrain Grand Prix moral victor will have five sets of the medium compound compared to four for Vettel.
After Bahrain, Pirelli has reverted revert to a softer range for Shanghai, dictated in part by the weather factor says Mario Isola.
"In China it's difficult to predict, because sometimes the weather is good, sometimes the weather is very cold," said Pirelli F1 boss Mario Isola.
"It's a track where if it is cold for sure we have graining on the front left tyre, because of the very long corners on the right.
"With better conditions the graining is much reduced, so the wear life and degradation is changing massively.
"We have the C2, C3, C4 - it's an average choice because we have to cover both the possibility that you have warm weather or cold weather.
"It's a sort of compromise, but I believe it's the right choice for China."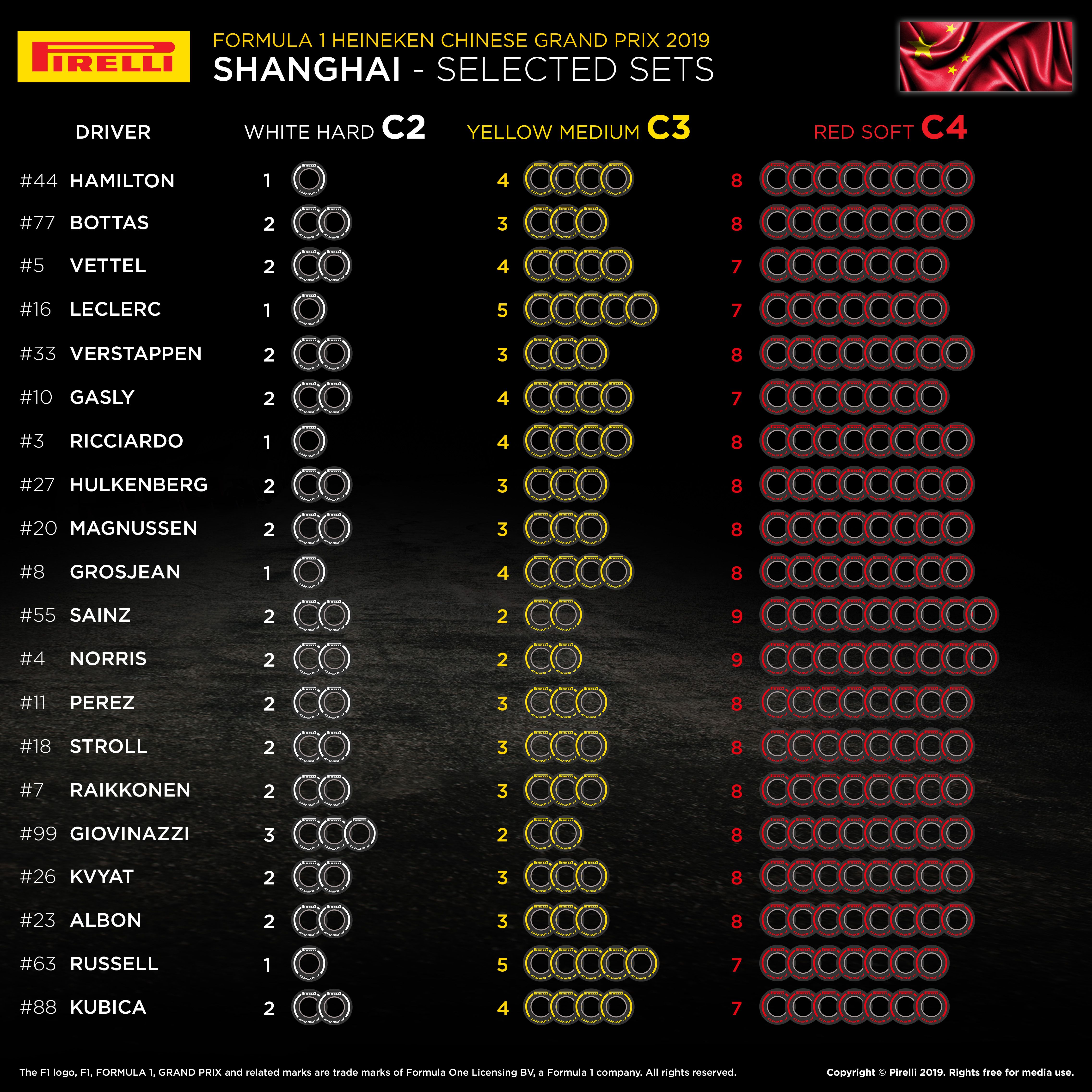 Gallery: The beautiful wives and girlfriends of F1 drivers
Keep up to date with all the F1 news via Facebook and Twitter