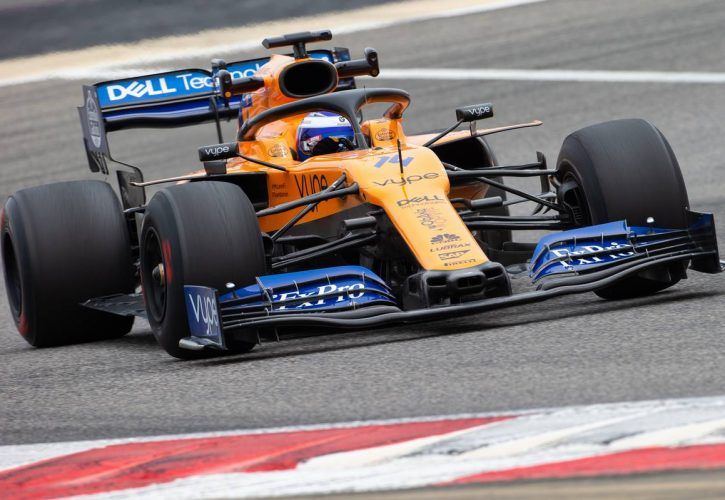 Fernando Alonso gave McLaren's MCL34 the thumbs up after a day of testing in Bahrain on Tuesday, calling the team's 2019 contender "a step forward in every aspect".
Alonso, who remains contracted to McLaren, was called in by the Woking-based outfit to handle tyre testing duties for Pirelli at this week's in-season test at Sakhir.
The Spaniard put in 64 laps on a day partially disrupted by rain, but was obviously constrained by Pirelli's imperatives as the manufacturer experimented with the development of its 2020 compounds.
However, the two-time world champion still got a clear picture of McLaren's car.
"Obviously it's a step forward in every aspect of the car," he told Motorsport Week.
"I think the car has more grip, the car is less draggy on the straights. The engine is a bigger step better as well.
"Overall, as a package, I think the car is on the right direction.
"Obviously we saw in the first two races there is still another step to do if you want to compete with the top three teams.
"But as a first step I think, and hopefully consolidate as a fourth team or leading the midfield together with Haas, that's the target.
"I felt that on the car as well."
Alonso saluted McLaren's early momentum and hoped it would be sustained moving forward, contrary to previous years.
"I think we've been working a lot for four or five years in the team, and we never had probably the momentum, or never had the continuity or progress"" he explained.
"We saw some good signs. We finished Bahrain last year, and I was third in the championship or fourth in the championship.
"We had a good start and some good moments, but never the continuation through the year.
"I think this year there is a good baseline and good programme of development, and I think it's going to be a much better season. I'm happy.
"Especially last year, it was a good start, but then we stopped the development probably in May or June, so that was painful until Abu Dhabi."
Gallery: The beautiful wives and girlfriends of F1 drivers
Keep up to date with all the F1 news via Facebook and Twitter