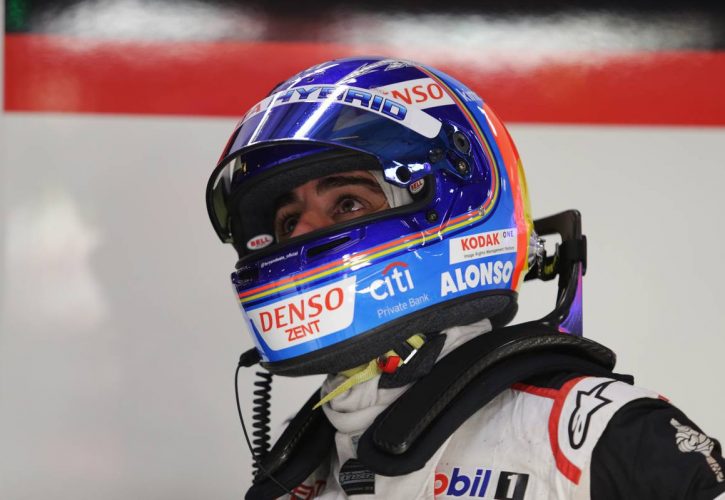 Fernando Alonso says he is only taking "a short break" from the World Endurance Championship, and has vowed to return to the series in the future.
On the eve of the penultimate round of the WEC's super season at Spa this weekend, Toyota announced that Alonso would not be included in the manufacturer's line-up for its 2019/20 campaign and would be replaced by former Toro Rosso and works Porsche driver Brendon Hartley.
Speaking in Spa, Alonso said he was "only taking a short break" from the endurance series in order to keep his options open for other opportunities in 2020.
"In the medium term and long term, 100 percent I will come back to WEC, because it is a series I really enjoy," said the Spaniard.
"I like the type of racing here, I like the unpredictably of the racing with all the traffic and I like the team spirit of sharing a car with teammates."
"To commit to the new [WEC] season until June 2020 was closing [the door] on some of the opportunities that may come later in the year, so I took the decision to stop this programme for the moment, for the short term.
"Being free of any obligations is the best way I could approach those opportunities — that is the reason why I could not commit [to Toyota] in May of this year."
Alonso didn't elaborate on his future plans which could include a full-time presence in IndyCar, a return to F1 or perhaps a foray into the world of rally raid with Toyota.
"It could be F1 in 2020, it could be IndyCar, it could be a different series outside of all this, or maybe I will not do anything," he said.
"I have the possibility to decide what I want to do in 2020. I have to wait and see what happens in the next two months.
"Being free of commitments is the best way to make the most timely decision. If I was committed to something, those opportunities would not come.
"I have two or three ideas in mind and in July it will be known.
After Spa, the 37-year-old will head back to Indianapolis where he'll enter the thick of his preparations with McLaren for this month's Indy 500.
The Spaniard will then conclude in June at Le Mans his super-season stint with Toyota, but Alonso's schedule thereafter remains unknown.
Gallery: The beautiful wives and girlfriends of F1 drivers
Keep up to date with all the F1 news via Facebook and Twitter