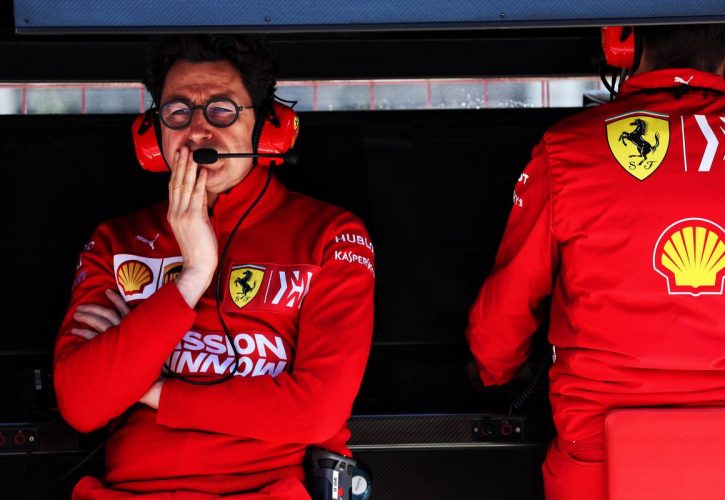 Scuderia Ferrari boss Mattia Binotto says the Italian outfit will fight to retain its veto right in the future as it represents a protection for all F1 teams.
Ferrari's right to oppose fundamental regulation changes in Formula 1 decided by the FIA dates back to the 1980s when Enzo Ferrari was awarded the benefit to entice him to sign the sport's original Concorde Agreement.
While the House of Maranello has only used its veto once in the past three decades - in 2015, when the FIA tried to impose a cost cap on engine, the privilege is seen by many, including by FIA president Jean Todt, as a conflict of interest and a favour from a bygone era.
However, Binotto makes a case for Ferrari to keep its right inscribed in F1's future commercial agreement with the teams, set to come into effect in 2021.
"Certainly the veto right is something important for Ferrari but I believe it's something important for F1 overall as well," the Scuderia boss said in Barcelona.
"Somehow it's not only protecting us but it's protecting all the teams maybe against some decisions which could be against the spirit or the interest of the teams themselves, something that we are starting discussing with both the FIA and F1.
"I think we are doing well in that respect and hopefully we can keep the same rights."
With several tenders recently opened by F1 for gearboxes, brake systems and wheel rims, Binotto also gave his two cents on the concept of introducing standard parts into the sport, something former Ferrari president Sergio Marchionne vehemently opposed.
"First it's not decided yet, yes, true there are some tenders and discussions are on-going," he said.
"As Ferrari, we always relay that we are against the standardisation principle – but we know as well that we need to control the costs and expenses – and obviously there is a budget cap so we need to find the right balance.
"Standardisation only makes sense if you may save money, which has to be proved first. And as well we need to take care of the DNA of F1.
"For example, if we take the rims, all the cars with exactly the same rims – I think that, in terms of aesthetics, is not good for F1 from the outside, because you're not differentiating any more the cars from one car to the other, maybe just the paint. But it's not something we should look at.
"We are going through an entire process, together with the FIA tenders. I think first we should look at the result of the tenders and then to a proper evaluation and make it carefully."
Gallery: The beautiful wives and girlfriends of F1 drivers
Keep up to date with all the F1 news via Facebook and Twitter