Speed trap readings often make for an interesting study but they rarely tell the whole story of a car or driver's performance.
In Barcelona, once again, Ferrari's superior velocity down the Circuit de Catalunya's main straight relative to Mercedes belied the overall performance of its SF90.
Charles Leclerc and Sebastian Vettel were on average about 5km/h faster than their Mercedes counter-parts through the speed trap, but the latter more than made up for that deficit in Barcelona's third sector, where slow corners abound.
That's exactly where the Scuderia's drivers will to hang it out this afternoon if they are to entertain any hope of breaking the Silver Arrows squad's hegemony. An unlikely prospect according to many.
At the bottom of the readings, Williams - the usual laggards - make up the rear. But Max Verstappen hardly fairs any better and yet the Dutchman was P4 in qualifying, a performance which underlines his Red Bull's strength in… yep, you guessed it, the slow corners.
Will Max be the one snapping at the heels of Mercedes this afternoon ?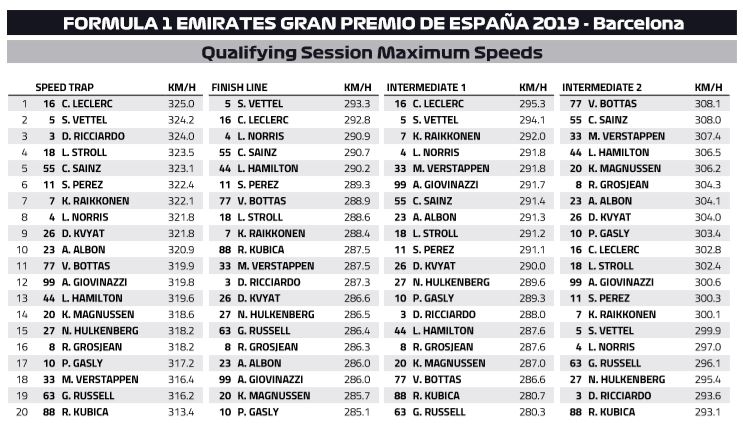 Gallery: The beautiful wives and girlfriends of F1 drivers
Keep up to date with all the F1 news via Facebook and Twitter