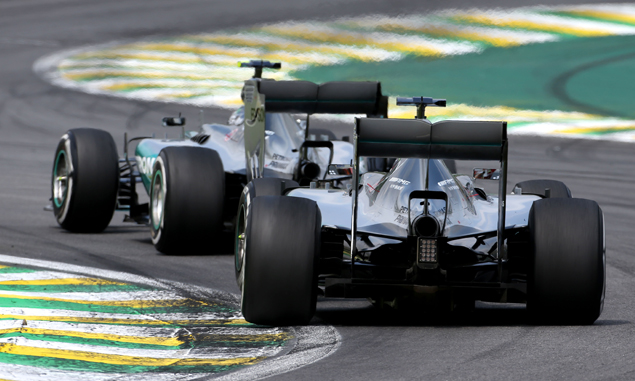 Lewis Hamilton says "something has got to change" in the wake of last Sunday's rather dull Brazilian Grand Prix.
The triple world champion spent most of his afternoon right on Nico Rosberg's tail but was not able get past him and had to settle for second. Hamilton is adamant he had the pace but bemoaned excessive tyre degradation whenever he was in his Mercedes team-mate's tow.
Although the Briton does not offer any actual proposal to an issue that seems to bubble up any time there is a dull race, he does feel some venues are more suited to the current generation of F1 cars.
"I love [Interlagos], it's such a great circuit but unfortunately it's so difficult to overtake," Hamilton said. "You get to within a second and you just lose downforce and there's no way you can get any closer. And the DRS zone is kind of maybe not long enough, if that was to be the thing to make the difference, it's almost not long enough.
"Motorsport is about fine lines, you know, about tenths of a second, but you can't get close enough within a tenth of a second to be able to fight. It's a shame because it would be good if we did some overtaking here.
"Something's got to change. Because some races you can follow which enables you to have some good racing, obviously places like Austin where there was the last decent race but otherwise there are some places it's just… I guess for fans it's probably not too exciting to watch.
"Of course, it's always nice when you're at the front, as we have been for some time now – but still, being able to race is what… and also down the back, the rest of the field is probably what fans want to see. That's probably a change that would be looked positively on."
Despite his call for action, a fatalistic Hamilton does not hold much hope of seeing things improve quickly, hinting that drivers' opinions are not really taken into account by the powers that be.
"At the end of the day it doesn't really matter what we say because it can't happen. The big bosses make the decisions and whether or not they make the right ones for many years, who knows?"
REPORT: Rosberg keeps Hamilton at bay to win in Brazil
AS IT HAPPENED: Brazilian Grand Prix
Use the red tabs on either side of the screen to scroll through more Formula One news and features
Click here for the Podium gallery from the Brazilian Grand Prix
Keep up to date with all the F1 news via Facebook and Twitter