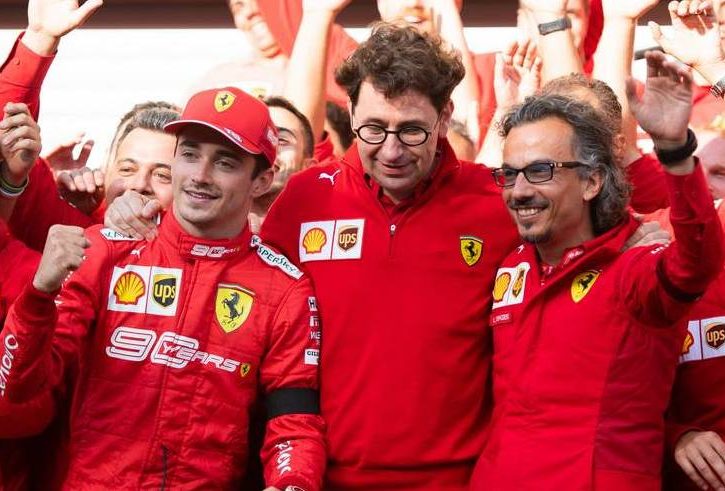 Formula 1 managing director Ross Brawn says Ferrari's first win of 2019 achieved in Belgium was as important for Scuderia boss Mattia Binotto as it was for driver Charles Leclerc.
Brawn's traditional post-race op-ed looked back on the standout performances at Spa, but the F1 chief kicked off his review with a heartfelt tribute to fallen F2 driver Anthoine Hubert.
"The tragedy that befell Anthoine Hubert in Saturday afternoon's FIA Formula 2 feature race leaves one bereft and my thoughts are with Anthoine's family and friends, with the Arden team and everyone involved in Formula 2," said Brawn.
"I would especially pay tribute to the rescue teams and services.
"All of us who love and live motorsport, especially the drivers, know that there will be dark days when a terrible price for our passion is sometimes paid.
"They know that risk is never far away and if that creates a sense of fear, it's their courage, their love of speed, the need to race that helps them to overcome it."
As a former leading light of the Scuderia and the strategist of so many wins achieved by the House of Maranello, Brawn admitted he rejoiced in Leclerc's win.
"Fans of other teams will have to forgive me, but the Belgian Grand Prix finally delivered an enormously gratifying first win of the season for Ferrari and more specifically, a wonderful maiden F1 win for Charles Leclerc," he commented.
"It was pretty much a perfect weekend for Charles, who got the very most out the package and critically received all the support he needed from the team.
"That included assistance from Sebastian Vettel, who managed to hold off Hamilton for a few vital laps, a delay that was to prove decisive, given that the championship leader was definitely quicker in the closing stages."
But Leclerc wasn't the only Ferrari team member to enjoy a sense of relief in Spa according to Brawn.
"It is also an important first win for Team Principal Mattia Binotto," added the Brit.
"It means he can tackle the pressure more calmly now, especially from outside the team.
"One has to understand that in Italy, Ferrari is seen in the same light as the national football team and so the pressure is immense.
"It's also a well-timed win because it comes a few days before the next round, the team's home race in Monza.
"The win will have fired up all the very enthusiastic Italian Ferrari fans and I'm sure the Monza ticket office is currently snowed under with people trying to snap up the last remaining tickets."
Keep up to date with all the F1 news via Facebook and Twitter