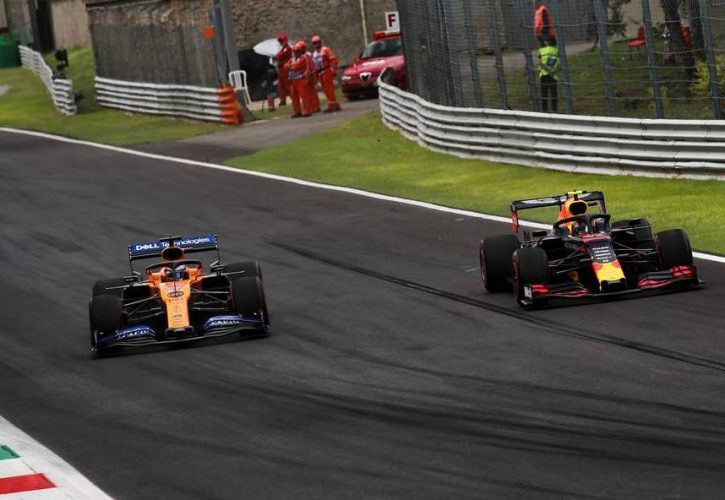 McLaren's Carlos Sainz had no qualms about his "hard racing" move on Alex Albon in Sunday's Italian Grand Prix, although the Spaniard apologised over the radio for the squabble.
Sainz was leading the Red Bull charger in the opening laps of the race when Albon dived up the inside of the McLaren at the Roggia chicane.
The Red Bull briefly seized the upper hand but a persistent Sainz was determined to hold his own as the pair entered the Lesmo corners side by side.
A light brush between the two cars forced Albon onto the gravel, with the British-Thai racer losing a couple of positions.
While Sainz immediately apologized over the radio for the contact, he believed the wheel-to-wheel fight was fair.
"He went really deep into Turn 4, really late braking with that Red Bull like we always see with Max [Verstappen] and everyone who drives that car," said Sainz.
"I was quite surprised that he went for it and I managed to get a run on the inside to Turn 6.
"In the middle of Turn 6 I made a bit of a nudge on the rear and I think that was just enough to get him a bit out of line, which I apologised for over the radio at that point.
"But it was honestly hard racing and I lost the car a bit so there is nothing I would have done differently."
Sainz's afternoon ended on lap 27 when his right front wheel came loose as he exited the pits after a mishap by his McLaren crew.
Albon however raced on to finish sixth, delivering his second consecutive points finish with Red Bull, despite being handed a five-second time penalty for skipping the Roggia chicane during a battle with Haas' Kevin Magnussen.
"It was a bit of a messy race. In saying that, I felt the moves I went for were justified; it wasn't as if I was doing anything crazy," said the Red Bull rookie who had no complaints to formulate over his skirmish with Sainz.
"I felt like my initial move was quite good, I quite liked my move on the first part," Albon said, referring to his move on Sainz into the chicane.
"He got the switchback, which was a good move by him. And then I know I have more grip than him in the corners, so I did try it around the outside and I thought the move was on.
"I think he would have had the corner into Lesmo two, but that was kind of my plan, to get him into Ascari, just to keep him off-line into the second part.
"We're talking small margins, I dropped my wheel maybe 10cm wider than I would have liked and I got into the gravel."
Keep up to date with all the F1 news via Facebook and Twitter