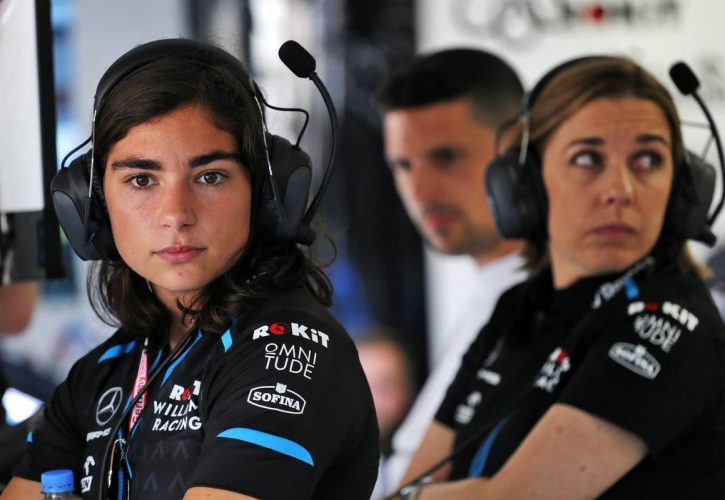 Williams will define the 2020 role within its team of development driver Jamie Chadwick once it settles its driver-line-up for next year says deputy team principal Claire Williams.
Chadwick, who won the inaugural all-female W Series this season and $500,000 bonus to help further her career, has yet to decide where she'll be racing in 2020.
The 21-year-old recently tested at Silverstone a Euroformula Open Dallara Formula 3 car, but no firm plans have yet been put in place for 2020.
"That's got me really excited," said Chadwick after her run. "I think this car is such a good step for junior drivers. The amount of downforce it's got, the power, everything.
"The new car is kind of similar along those lines: light, a lot of downforce. It's going to be an awesome car.
"I would definitely love to race it. I think next year will be exciting if this championship, and other championships can get that car."
In the interim, Chadwick will continue to bed in with Williams on Grand Prix weekends, taking in as much passive knowledge as possible.
"Jamie has been an instrumental part in that this year and when she comes to the races with us, when she's trackside she shadows basically, she watches what is going on in engineering briefings," commented Williams.
"She listens to the drivers, she obviously watches all the track action and she learns how a Formula 1 weekend operates.
"I think she's yet to announce her plans for 2020 but I know she's got a lot of offers on the table."
It's perhaps early days still for Chadwick with regard to her Formula 1 ambitions, but she'll hopefully remain close to Williams in the future.
"As for our plans for Jamie, moving forward, we're obviously working out what we're going to be doing from a race driver perspective for 2020 at the moment," added Williams.
"Once we've resolved that then we will start looking and thinking about the plans for the driver academy and who we have in there".
Gallery: The beautiful wives and girlfriends of F1 drivers
 Keep up to date with all the F1 news via Facebook and Twitter