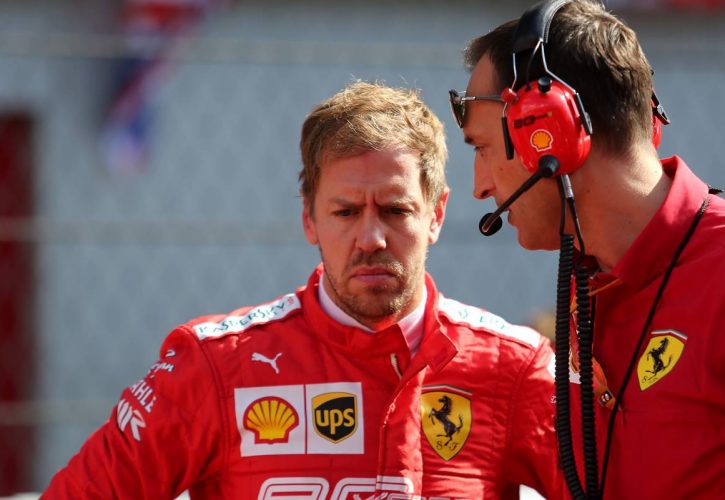 Sebastian Vettel says Formula 1's hybrid power units are fascinating works of engineering, but they offer no real upside for drivers and fans.
Vettel's Russian Grand Prix came to an abrupt end last Sunday after his Ferrari engine suffered an MGU-K failure, an issue that led the disappointed German to quip over the radio: "Bring back f**king V12s", referring to F1's older generation of engines.
The Scuderia driver later admitted that his remark simply reflected his frustration at the time of his retirement, and was not a call to return to the past.
"In that moment, obviously it was very bitter, because up to that point I thought I drove very well and it was looking like a good afternoon," he said.
"The first reaction when the car breaks down is not always the happiest one."
Vettel acknowledged the engineering feat represented by F1's current breed of V6 turbo-hybrid engines, but doubted they added much value to the spectacle on the track.
"These power units are very complex from an engineering point of view, very fascinating, but obviously I have my stand on it," Vettel said.
"I don't think it comes with a great upside for us racing and people watching."
Vettel's MGU-K failure at Sochi could force Ferrari to add a third such element to the German driver's pool of components in Japan next week, in which case he would be hit with a grid penalty at Suzuka.
However, Scuderia boss Mattia Binotto suggested that the four-time world champion could revert to his first MGU-K and therefore avoid a demotion, and the same applies to the unit's control electronics.
"We will see, probably we have lost the power electronics, but we've got another one, so we will still use the other one," Binotto said.
Gallery: The beautiful wives and girlfriends of F1 drivers
Keep up to date with all the F1 news via Facebook and Twitter