Former F1 driver Jolyon Palmer mocked Max Verstappen's comments about Charles Leclerc's driving at Suzuka given the Dutchman's track record when it comes to tangling with others.
Leclerc and Verstappen clashed on the opening lap of Sunday's Japanese Grand Prix, with the Ferrari driver understeering into the side of the Red Bull at Turn 2.
While Leclerc went on to finish the race seventh, the contact eventually led to Verstappen's retirement and to a scathing criticism of his rival, the Red Bull charger calling Leclerc's move a case of "irresponsible driving", which Palmer found a tad paradoxical.
"He's forcing drivers off the road for Grand Prix wins," the former Renault F1 driver said on BBC Radio 5 live.
"As we saw in Austria, that driver was Charles Leclerc, who just drove into the side of him.
"But there is a subtle difference. Verstappen was ahead, well certainly side by side, and Leclerc sort of drilled into the side of Verstappen from a bit behind.
"But it is still an irony for Verstappen, who is Mr Aggressive, Mr Elbows Out, forces people off the road, wheel banging.
"He [Verstappen] gets driven into, is on the receiving end of it, so I don't think he can have too many complaints."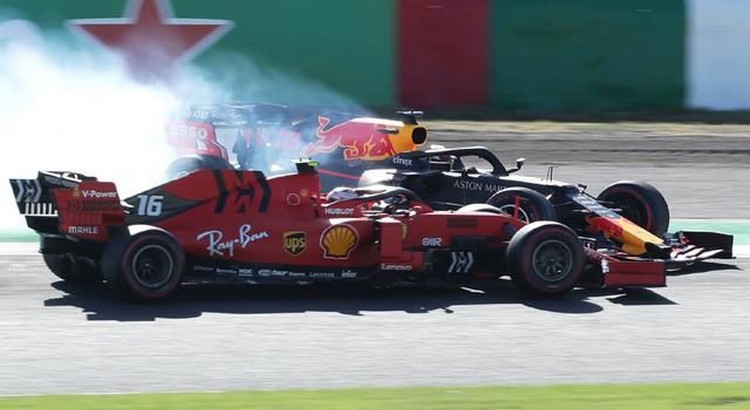 Leclerc was punished post-race by the stewards with a time penalty, and the Monegasque candidly admitted to his mistake, which was partly rooted in the Scuderia driver's poor launch off the line.
"I had a poor start. I got a little bit distracted; I saw Seb moving a little bit and then my reaction time was very poor.
"The start was not so bad, but the reaction was very poor.
"And with Max I just did a mistake, clearly. I was on the inside and being behind Seb and Lewis I lost the front a little bit.
"Normally you need to anticipate those things and I didn't. Yep, I'm the one to blame."
Gallery: The beautiful wives and girlfriends of F1 drivers
Keep up to date with all the F1 news via Facebook and Twitter